Other Calcareous: Up & Down
Roller-coaster redux.
After watching this sector for a decade-and-a-half, nothing's surprising. For the most-volatile sector of U.S. surface imports, 2017's rise of more than 20% in volume is a good sign … but, with Other Calcareous, wait until next year.
China retains its #1 position in volume among exporters to the United States with a hefty 38.1% gain from 2016. However, this is Other Calcareous; 2017 shipments were 10% less than in 2013 (when China also placed #1).
Canada's strength in 2017 also shows the yo-yo effect of the sector. Sure, Canada nearly doubled its exports of Other Calcareous to the United States last year … but the 2017 total is still 5% behind the country's 2015 shipments.
With all those gains in Other Calcareous volume, where does the stone's import values go? Nowhere. Overall values rise from 2016 by a measly 01.%; China's value gain in 2017 is 3.8%, or one-tenth the increase in its volume.
The 2017 volume-to-value ratios for other countries go off the dock at U.S. ports-of-entry. Canada's year-to-year doubling of shipments in 2017 translates to a 5.9% loss in value. Italy drops its shipping total by nearly half, but lose only 20.3% of value.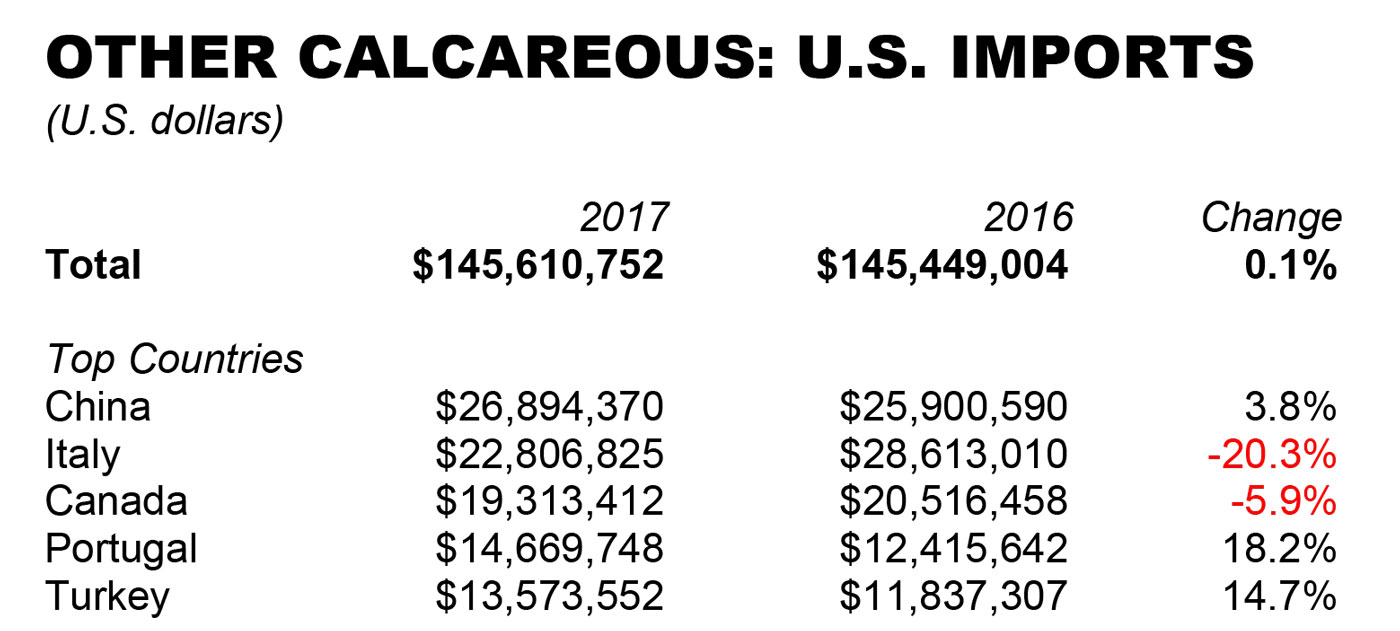 What's with this zany action? For one thing, there's a lack of consistent amounts of Other Calcareous entering the United States; it's more of a building/architectural stone than other categories, and susceptible to large swings of demand in both general construction and massive specific projects.
Other Calcareous values are also volatile and create some of the largest spreads in value-per-ton. In the 2000s, for example, Lebanon dominated the U.S. market for a few years with unrealistic values of less than $200 VPT while comparable countries came in well above $400.
In the last five years, Italy and Portugal managed to steady their Other Calcareous VPT and show growth. For others, the U.S. market is an economic trampoline.