Marble: Another Year, Another Leader
Turkey takes the top spot. Sound familiar?
For the fourth year running, there's a different country heading U.S. imports of worked marble. For the first time since 2015, Turkey moves into the #1 slot – and by a wide margin.
Turkey's phenomenal 64% jump in tonnage from 2017 put it far ahead of that year's leader, China (which took a 22% hit in year-to-year shipments and dropped to third in 2018). Italy remained in second, albeit with a 14% drop from 2017 tonnage.
With marble, "imitation may be the sincerest form of flattery*" … along with a spurring of market demand. It may be the only natural stone benefiting from quartz manufacturers' efforts worldwide to recreate the classic looks of Calacatta Gold and Nero Marquina.
*Depending on your opinion, you may agree with Charles Caleb Cotton's original quote or Oscar Wilde's interpretation.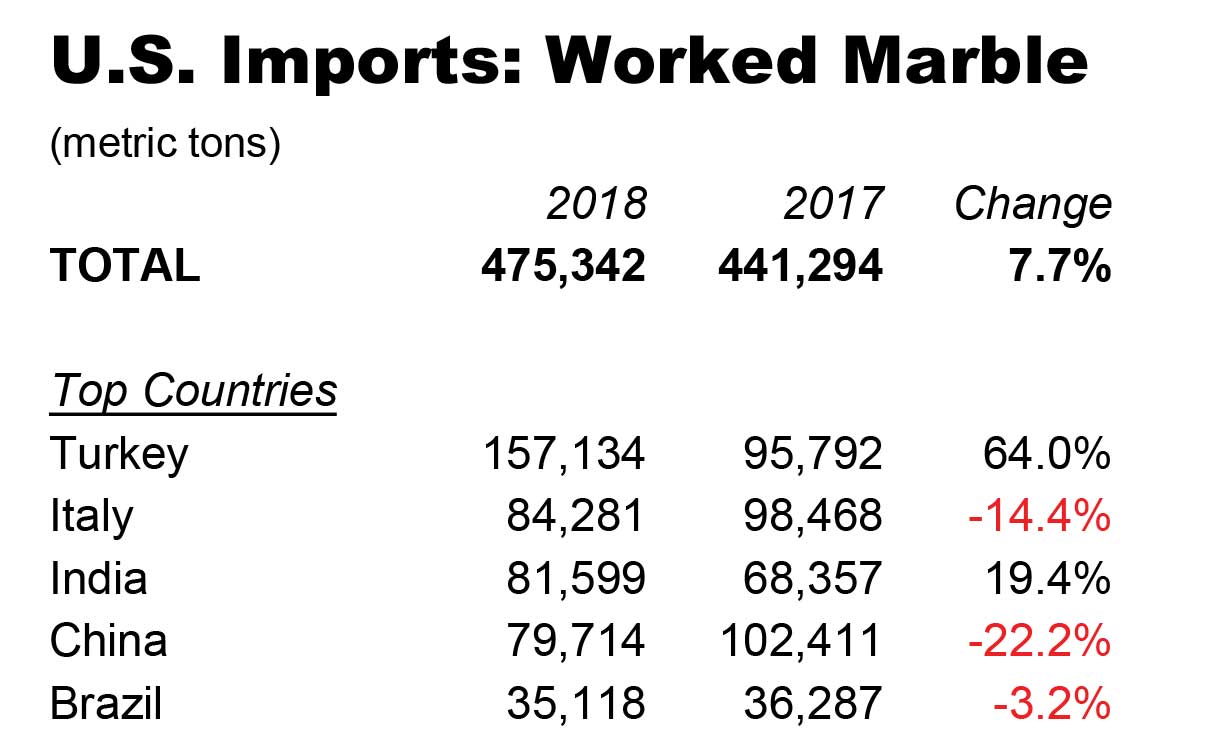 Source: U.S International Trade Commission, Stone Update analysis
The two larger gainers in 2018 – Turkey and India -- offer a big advantage in lower cost than marble from traditional sources such as Italy, Spain or Greece, or recent leading processors like China. There's also a cost advantage over marble-look quartz for users willing to skip the manufactured material's easier-to-maintain surface and avoid the premium prices from traditional sources of quarried stone.
In the past five years, U.S. marble imports went through a change in sourcing dynamics, which is why there've been so many changes at the top. The interactive chart below takes a look at two of the old-line sources (Italy and Spain) along with the more-recent worldwide leader in processing (China) and some of the newer kids of the blocks (Turkey, China and Brazil).
(The chart doesn't represent all of the worked marble imported into the United States, but these six countries make up more than 93% of total marble imports in 2018.)
As in 2017, the value of worked marble shipped to the United States didn't keep pace with volume. There's a basic misery rate of -3 (7.7% volume gain vs. 4.7% value gain), with the spread as high as -36 for Turkey and -10.9 for India.

Italy managed to keep its lead handily in value in 2018, losing slightly less than 1% from the previous year. Its larger fall (14.4%) in volume means that while Italy shipped less in 2018, it got more for its marble per ton.
China also won the more-for-less game in 2018, with supply falling by more than 20% but values rising by 11.6%.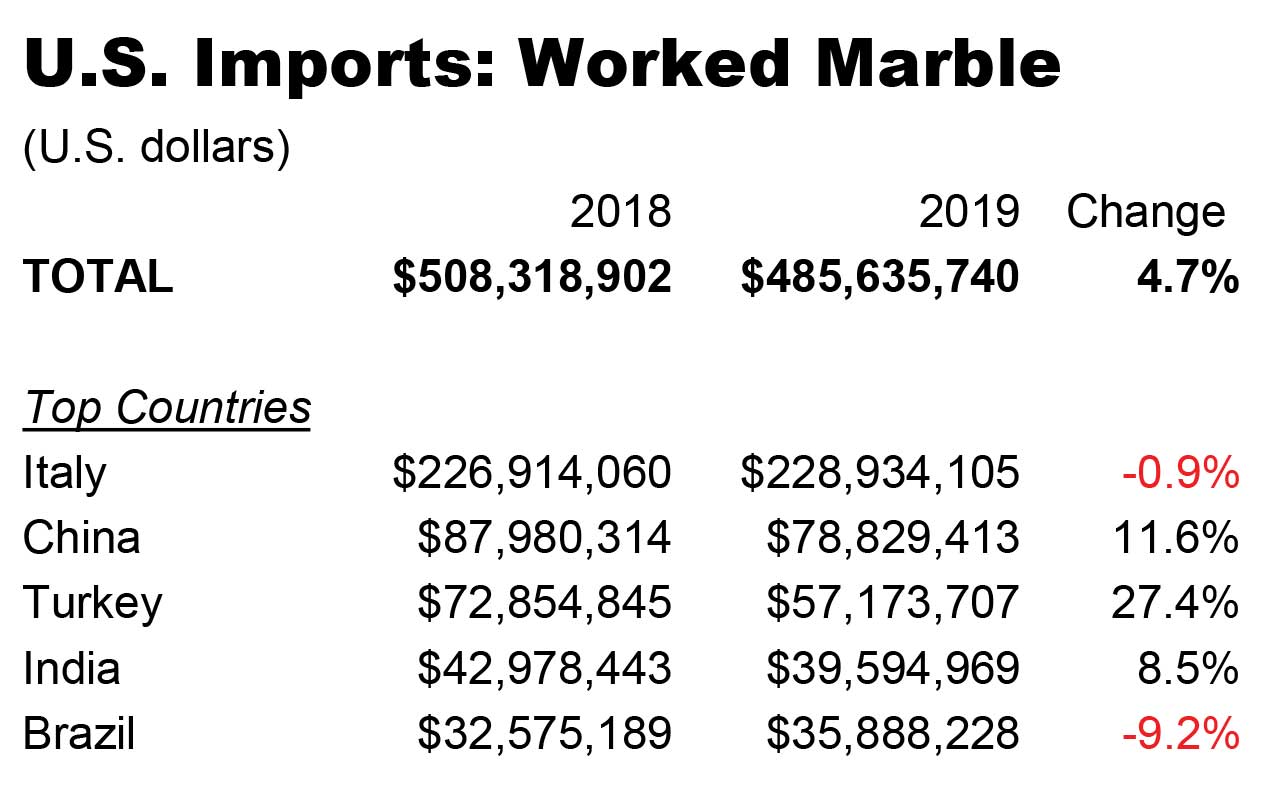 Source: U.S International Trade Commission, Stone Update analysis

Source: U.S International Trade Commission, Stone Update analysis
Source: U.S International Trade Commission, Stone Update analysis