The Safe Shop




From The Natural Stone Institute
Lift with Care
There's More to
Forklift Use
Than Up, Down and Drive Around
Forklifts are found practically everywhere in stone-industry operations (quarries, warehouses, shops, etc.). They are extremely versatile and deceptively easy to operate, but they do have their perils. There are strict do's and don'ts when using forklifts and following them to the letter will help you stay safe.
There is are definite skills involved driving a forklift. Anyone operating this specialized vehicle must be thoroughly trained in forklift operations before ever attempting to get behind the wheel. In addition to OSHA requirements, your company may have specific qualifications for training and operation.
Moving a slab or slabs with a forklift is a team operation which may include as many as two other people in addition to the driver.
Before Operating
When moving slabs, you must wear the proper clothing and accessories including hard-toed shoes, gloves, safety glasses and, if your company requires it, a hard hat.
Before attempting to move slabs, standard industry practice calls for a daily pre-use inspection of equipment for potential problems, including cables, latches, grips and more. The forklift should be checked to assure that safety equipment is functioning properly. This includes seat belts, back-up horns, flashing lights and safety headlights. Depending on company policy and local fire codes, some forklifts are equipped with fire extinguishers.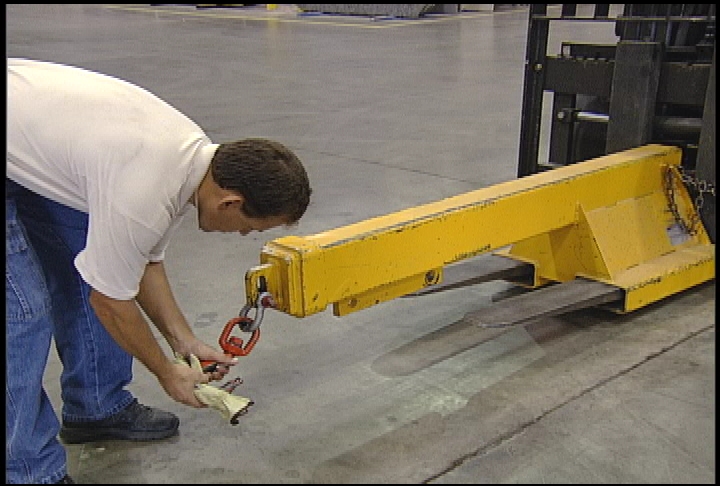 Using an unapproved boom attachment could alter the forklift's lifting and balance characteristics and lead to a forklift overturning. Whenever an attachment is used that could affect the capacity or safe operation of a forklift, its use must be approved by the forklift manufacturer. The employer must mark the forklift to show the new weight with attachment. The maximum capacity at the highest elevation must also be shown for both the vehicle and all attached lifting devices
From the OSHA Files
At approximately 1:45 p.m., Employees #1 and #2 were walking in front of a forklift stabilizing a slab of marble hanging from a boom extension and clamp. A third employee drove the forklift. Employees #1 and #2 were rotating the marble slab to move it onto an A-frame storage rack. Employee #1 was knocked off balance by the rotating slab and fell to the ground. His left foot became caught in the wheel well of the left front tire of the forklift. Employee #1 was admitted to the hospital for treatment of his twisted left knee and crushed left foot: his foot was surgically amputated the next day.
OSHA Inspection Results
Violations of OSHA standards included:
· The employer did not ensure that each powered-industrial-truck operator was competent to operate a powered-industrial-truck safely, as demonstrated by the successful completion of the training and evaluation specified in 1910.178(l)(1).
OSHA Recommendations for Accident Prevention
• Train maintenance and operating personnel to recognize potential problems with the operation of the machinery.
• Comply with manufacturer's installation instructions per the owner's manual for the lifting device attachment.
• Have competent persons perform periodic inspections of all operating equipment.
Recap and Review
• This particular OSHA accident summary leaves a lot to one's imagination. What do you think happened here?T
This case is representative of injuries caused by improper work practices. No special emphasis or priority is implied nor is the case necessarily a recent occurrence. The legal aspects of the incident have been resolved, and the case is now closed.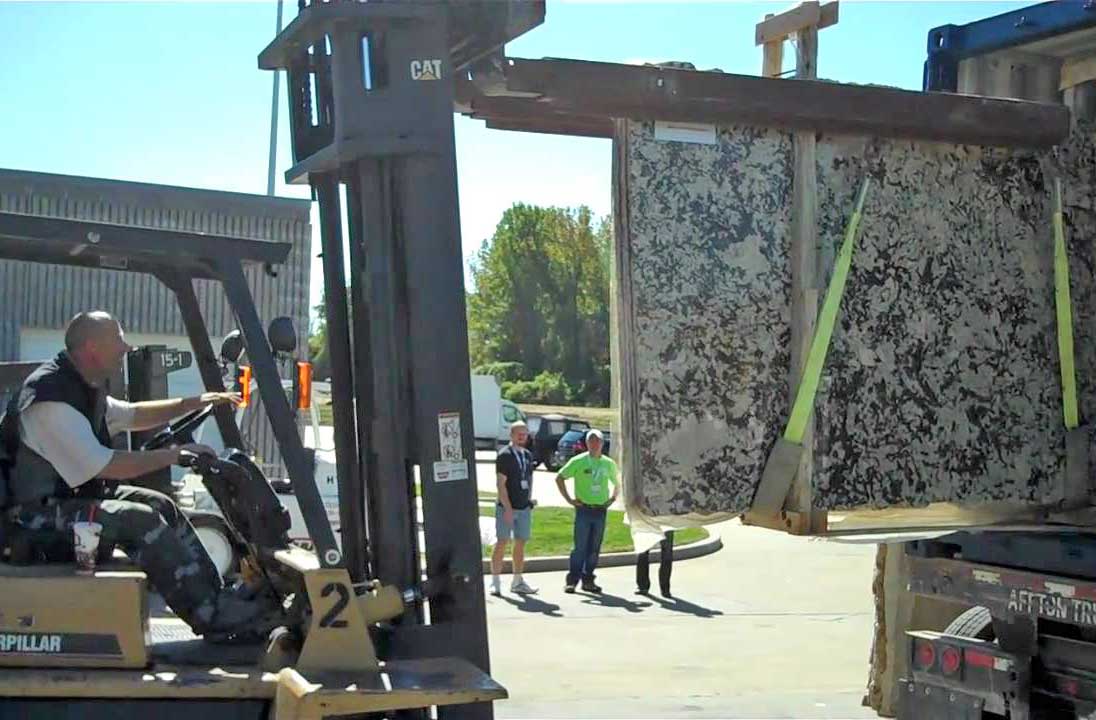 Safety First
Since 1992, forklift manufacturers have been required to equip new forklifts with operator restraints such as seat belts. Many forklift manufacturers offer restraint systems that can be retrofitted on older forklifts.
If your forklift begins to overturn, you are safest when you stay in the seat, hold on firmly, and lean in the opposite direction of the fall rather than trying to jump. Many fatal accidents happened when the operator tried to jump.
As the forklift begins to tip it will move slowly – tricking the operator into believing there is time to jump. Once the center of gravity is past the wheel line, the forklift will rapidly fall. The forklift's overhead guard will quickly pin or crush an operator who jumps. Failure to wear a seat belt can result in the operator being thrown outside the protective cage in the event of an overturn.

To prevent your forklift from tipping over, falling sideways or dropping its load:
Make sure the load is stable and safely arranged on the forks.
Do not tilt the forks forward except when picking up or depositing a load.
Tilt the load backward only enough to stabilize the load.
Keep the load low just above the pavement with forks tilted back when traveling.
Cross railroad tracks diagonally when possible.
Keep the load uphill when going up or down an incline.
Drive at a speed that will allow you to stop safely.
Slow down on wet or slippery surfaces.
Slow down to make turns.
Avoid driving over loose objects or on surfaces with ruts and holes.
Always conduct an inspection of the walkways and areas through which you will be moving or transporting the slab. You want to avoid tripping and other hazards and make sure there is proper clearance when doors and ceilings are involved.
Always pay close attention to the weight of the slabs. Overweight movements can cause the forklift to tip from swaying. Whether lifting a slab or a bundle of slabs, always consider the center of gravity of the slab or bundle so that weight is distributed evenly. A trial tensioning will verify balance. The bottom line is this: Never attempt to move a load based on guesswork.
Check slabs to be moved for cracks or fissures which can cause the slab to break in transit. Many injuries – and fatalities – have occurred when a slab split and shattered while being moved.
Make sure the boom hoisting mechanism is attached via safety chains and the mast is tilted back towards the forklift to assure the boom attachment does not slide off.
Keep fellow employees clear of loads about to be lifted and make sure suspended loads are clear of obstructions. A minimum of two people should be involved in each slab movement – the forklift operator and a spotter.
(Source - State of Washington, Department of Labor and Industries, Division of Occupational Safety and Health)
Remember: Safety is the responsibility of management and employees!
All Natural Stone Institute safety resources and courses are available free of charge at www.uofstone.org and insti
The information herein is provided by the Natural Stone Institute as a general summary for use in job site toolbox talks and is provided to augment and not substitute for or replace required training under any applicable local, state or federal workplace statute, law or regulation. It is the user's responsibility to ensure this content is consistent with job site requirements and applicable statutes, laws or regulations prior to use and make any required additions or changes.
For More Information
The Natural Stone Institute
440-250-9222
http://www.naturalstoneinstitute.org
Oberin, Ohio