SFA: What's the Answer?
Crack or Fissure?
LauraB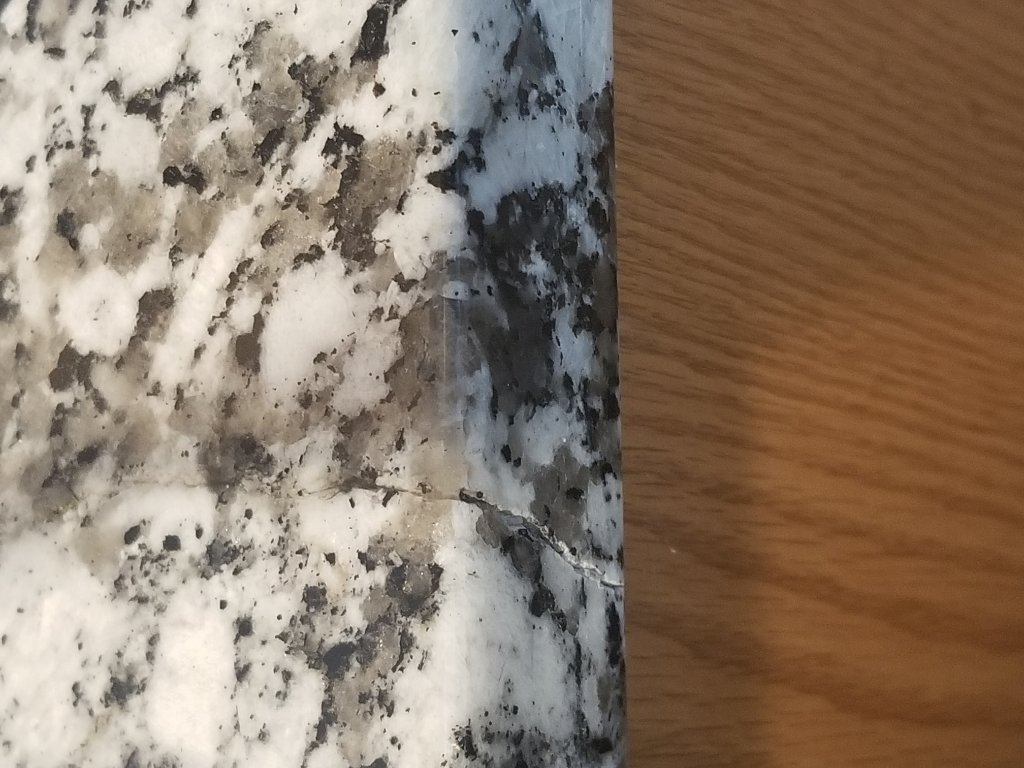 This was just installed last month and we have been going back and forth with the installer/fabricator about it. They claim it is a fissure and are refusing to do anything to the surface or replace this piece.
We are less than happy with it. We have asked for it to be replaced and they claim it is a fissure and straight up refused!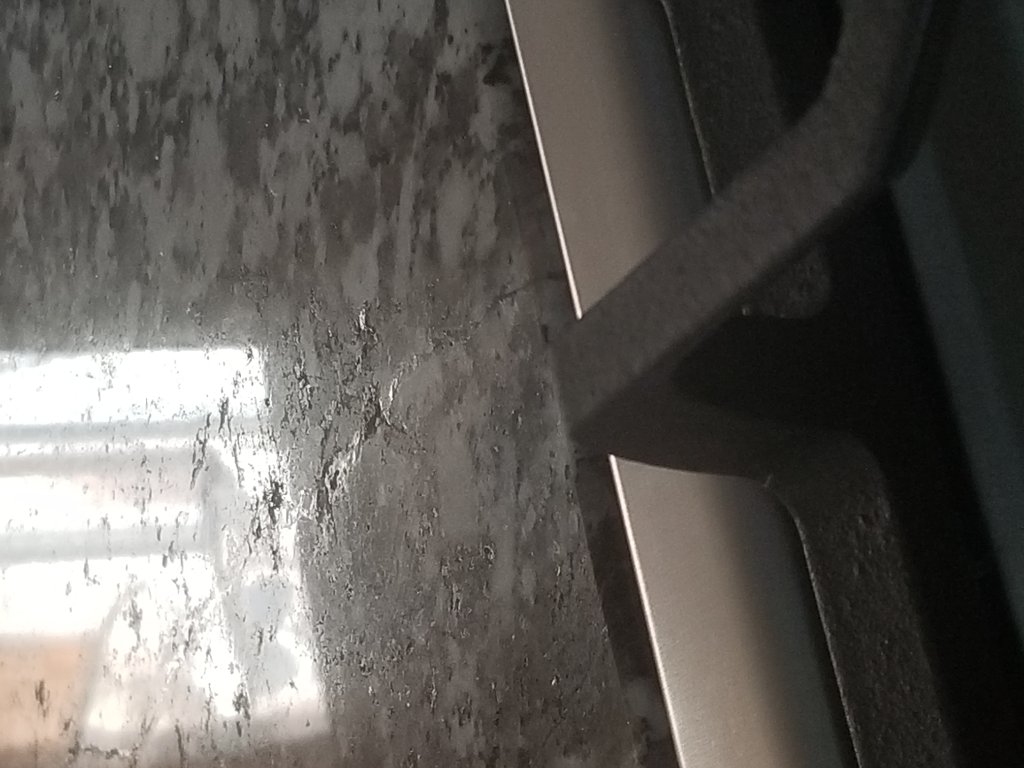 Joe Durfee
SFA Director
I'm calling that a crack. It goes all the way through the thickness of the stone. Does it stop or continue on to the to the other side of the top?
Did you inspect the slab prior to fabrication?
Can you take a picture of the top without the glare from the window? It looks pretty rough from the top.
Is it filled with glue?
Joe Durfee
Production Manager
American Floor Covering
Cell: (860) 338-9632
Team Motorboat
LauraB


It stops about 16" in. It is VERY rough. It appears to be filled with a resin on the top but is very uneven.
Joe Durfee
SFA Director
I wouldn't accept that in my house. Did you view the slab before fabrication?
LauraB


I did not get to see the slabs prior to fabrication.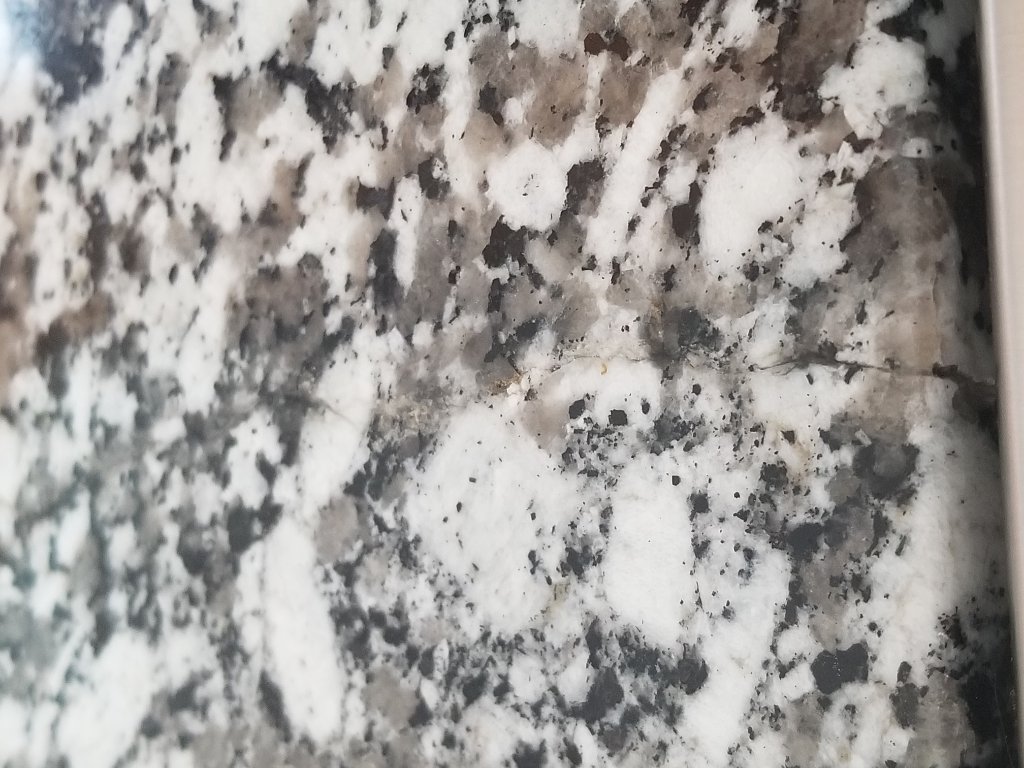 Andy Ross
SFA Member
Doesn't really matter if it's a crack or a fissure. It should be able to be repaired to an acceptable point. If it's a small piece, and we had material, I'd just remake it to satisfy my customer.
Andy
Rock Solid Surfaces
Kalamazoo, Mich.
crobb
SFA Member
I would also call it a crack but not all cracks are equal. The cracks that concern us most are the ones we created. Some very small cracks are often found in blocks of granite. The quarriy's factory fill these voids/cracks and polish it smooth. Often most shops will try and avoid those areas; of course, it greatly depends on each shop's end-quality standards.
Those can definitely be improved by someone on the job site. I would ask for them to come out and fill them and smooth them out.
Cecil Robberts
http://www.elegantesurfaces.com
Newnan, Ga.
Dan R.
SFA Member
Crack, that is easily remedied. Same with the rough areas.
Should be filled and polished out.
Properly repaired, these things should not effect the beauty or performance of your countertops.
Dan R.
Morris Granite
Morris, Ill.
815.228.7190
morrisgranite@sbcglobal.net
http://www.morrisgranite.com
Ellensherwood
SFA Member
I agree with Andy, the crack/fissure should be or have been repaired at the edge -- but seeing the picture of the pitted top would lead me to ask why that top made it to install. Is it really as pitted as it looks in the glare? That's definitely not acceptable.
Thanks,
Alan Sherwood
Ellen Sherwood Design
Brentwood, Tenn.
steven nenzel
SFA Member
We could easily make that virtually disappear. It is not a big deal. You just need a competent fabricator or installer.
Steven Nenzel
Rock-It Surfaces
947 Rancheros Dr
San Marcos, Calif.
760-597-1800
steven@rockyourhome.com
www.rockyourhome.com
Mitch@ASW
SFA Member
Doesn't matter which it is, it should be (or should have been) repaired and at fabricator's expense.
Mitch Korth
Production Manager, Austin Stone Works
Austin, Texas
Mitch@AustinStoneWorks.com
"If you don't know where to start, go back to the beginning" -Alphonse Soady