Damiano Caon
Breton S.p.A.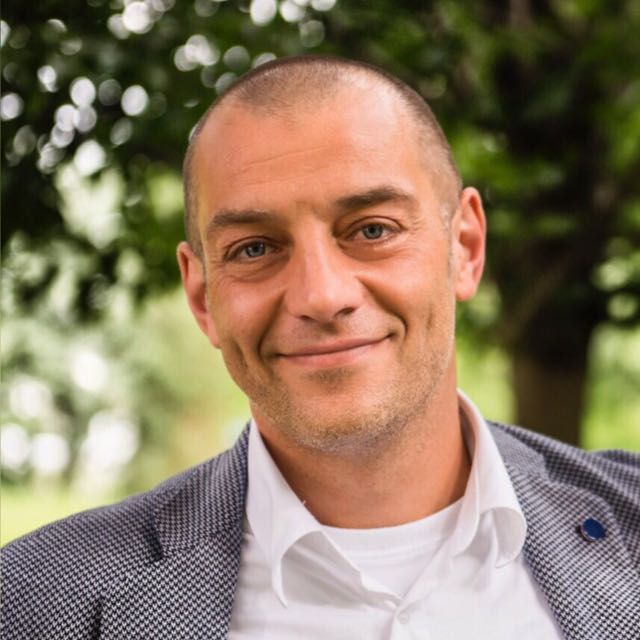 In light of all the tumult surrounding the quartz industry worldwide, maybe it's time to go to the source: Breton S.p.A.
Although the Italian company doesn't produce slabs for the market, it developed and patented the vibrocompaction manufacturing process used by leading manufacturers worldwide, such as Caesarstone, Cambria, Compac, Cosentino (Silestone®), Diresco, DuPont (Corian® Quartz), Hyundai L&C (HanStone), LG Hausys (Viatera®), Lotte (Radianz®), Pokarna (Quantra®), Santa Margherita, Technistone and Vicostone.
We were interested to learn their perspective on what is unfolding now and what is their vision on what's to come. Here's what Stone Update found out in a session with Damiano Caon, export sales manager for Breton.
What – and who -- Is Breton?
CAON:

Breton is an Italian company that, for 55 years, has been developing advanced technologies for the processing of natural stone and for the production of engineered stone.In the last 25 years, Breton also branched out and began producing machine tools for metal and composite machining.

As part of our core values, our leadership demanded significant re-investment into the business through research and development. That's enabled us to develop innovative technologies, patent machines and production processes, respond to the needs of our customers, and remain focused on providing a superior level of service, efficiency and quality in all we offer.

We now have more than 900 employees and subsidiaries all over the world. Our expansion is fueled by the increasing demand for quartz globally. Last year, the group's total sales world-wide was about $320 million. In the United States, our head office is located in Sarasota, Fla.
Breton has a patented technology for the production of engineered stone. How would you describe it?
CAON:

Breton has continually invested in research and development to create innovative, automatic, controlled and repeatable industrial processes to produce engineered stone of superior and consistent quality. Our technology offers a very high production capacity; it also respects the environment and human rights in terms of safety of both the worker and our downstream enterprise partners.

We have patented, and are newly patenting every year, many of these processes and the machines that administer them to safeguard our intellectual property. That's not only for protecting our substantial investment, but also the investment and activity of our customers.
Several competitors – mainly in China – offer similar systems for production of quartz slabs. How is it possible that your technology and processes are patented?
CAON:

Today, some manufacturers are proposing plants for the production of quartz slabs, often copying either from our expired patents or from patents still valid internationally.

Recently, we have considered it appropriate to inform potential customers of the possible infringement of our patent and of the possible legal actions that we deem necessary to take to defend our rights, in case they were considering purchasing from these manufacturers.
Are you saying you will be ready to legally block possible competitors who want to deprive you of a monopoly on the market?
CAON:

Please understand our position for a moment. We reject any kind of monopoly, since we believe it does not encourage the growth of the market. However, we are absolutely against anyone who violates intellectual and industrial property rights, as this would lead to unfair business practices.

Just as any inventor or originator of patented and proprietary technology would, we just want to defend our rights against those who manufacture machines and processes by copying our protected intellectual property. All manufacturers, regardless of their nationality, who invest resources in innovation, have the right to protect their patents.
What is Breton's vision of the quartz market for the years to come?
CAON: The quartz market has been growing steadily and significantly in the last few years; just consider that in 2018 about 147,000,000 ft² were imported in the U.S. at a value of nearly $1.16 billion. That's an increase of 36% since 2017.
Although quartz penetration in the worldwide countertop market is still quite low, as it covers only 10% of the global market, the positive trend over the past 10 years is a good sign to expect further growth in both the American and the world market.
Moreover, the number of satellite activities is even higher considering the thousands of fabricators in the U.S. who use this material daily in their shops to manufacture countertops for the residential and commercial building industry.
At a global level, quartz has carved out a good market share reaching, according to the latest market research in the sector, about 650 million ft² with a growth projection estimated at about 11% per year between now and 2023.
What do you think of the new U.S. import tariffs applied to products imported from China? And what about Cambria's new request to apply the same kind of tariffs to countries like India and Turkey?
CAON: We have many customers/friends in the quartz sector in Turkey, India and the United States. We are very sad for the import-taxes issue and for the mess they have generated in the market also because the history teaches that protectionism never pays in the long run.
However, we cannot intervene in this issue. Our mission is to provide technology to our customers, no matter where they come from; and, of course, we never interfere with their commercial policies. Among Breton and our partners, we all remain very bullish on the growth of the quartz market given the innovation we will be unveiling soon.
Do you see other issues the industry needs to address?
CAON: There are companies that produce quartz slabs using obsolete plants, demonstrating little to absolutely no respect for the health and safety of their workers and/or for the environment. Preserving safety and the environment are core values of our company.
We believe that, in 2019, producers who do not respect these values should be penalized by both governments and consumers. Unfortunately, price seems to be the only important factor for some machine manufacturers and slab producers (and buyers).
This of course damages those who, in many countries, work according to the principles of "sustainability." We believe that technology should be for the benefit and not to the detriment of human beings.
So you're talking about development and technology in full respect of the environment and health. How do you think a product like quartz can evolve in an eco-friendly point of view?
CAON: Our state-of-the-art plants already allow us to produce slabs using a "BIO" quartz, obtained by processing silica sands, available on site, with other minerals. The Bioquartz has the same features of natural quartz and it is intended to be used as a local raw material replacing quartz granulates and powders.
The Bioquartz Bretonstone slabs do not contain crystalline silica, hence the potentially dry powder totally respects the environmental health standards.
Why don't you propose these new solutions to the market?
CAON: We're presenting Bioquartz® to the public at the Marmomac event in Verona in September.
In addition to this environmental and health aspect, from Breton's point of view, what will the future of quartz hold for us?
CAON:

With our latest technology improvements, we will dramatically minimize raw material waste (rough thickness of the slabs compared to finished thickness) and be able to produce thin slabs up to 5mm thick. We'll also be able to create new "impressive" esthetic effects.

We believe our investment and dedication to innovation is a cornerstone for the continuous development of this sector and our partners. As I mentioned earlier, recent research estimates about 650 million ft² per year in 2023 with a continuous growth of about 11% per year.

It is part of our creed that, by driving innovation, we would also likely expand the uses and ap-plications of quartz surfacing to more sectors within the architectural and interior design com-munities, as well as the historical pillars of countertops for the residential and commercial industry.