Mario Sardo
Fordham Marble Company Inc.
Stamford, Conn.
---
"We hope that we're going to deliver something more."

Joyce and Mario Sardo
By K. Schipper
STAMFORD, Conn. – Mario Sardo has a unique perspective on the stone-fabrication industry. The third generation of his family to own and operate Fordham Marble Company Inc., he can remember when stone was a handcrafted product … but he was also an early adopter of technology.
Today, he believes it's the technology that keeps his business competitive. The reason people come to Fordham Marble, though, is the service.
He's also like to retire, but that isn't happening. He sees the need to grow the business, and events set in motion years ago recently saw the fabrication shop move into a big new space up the Connecticut coast in Bridgeport.
And, just like he's done since at least the early 1970s, Sardo says, "I do a little of everything. I sell, I manage the office, I measure.
"And, I worry a lot."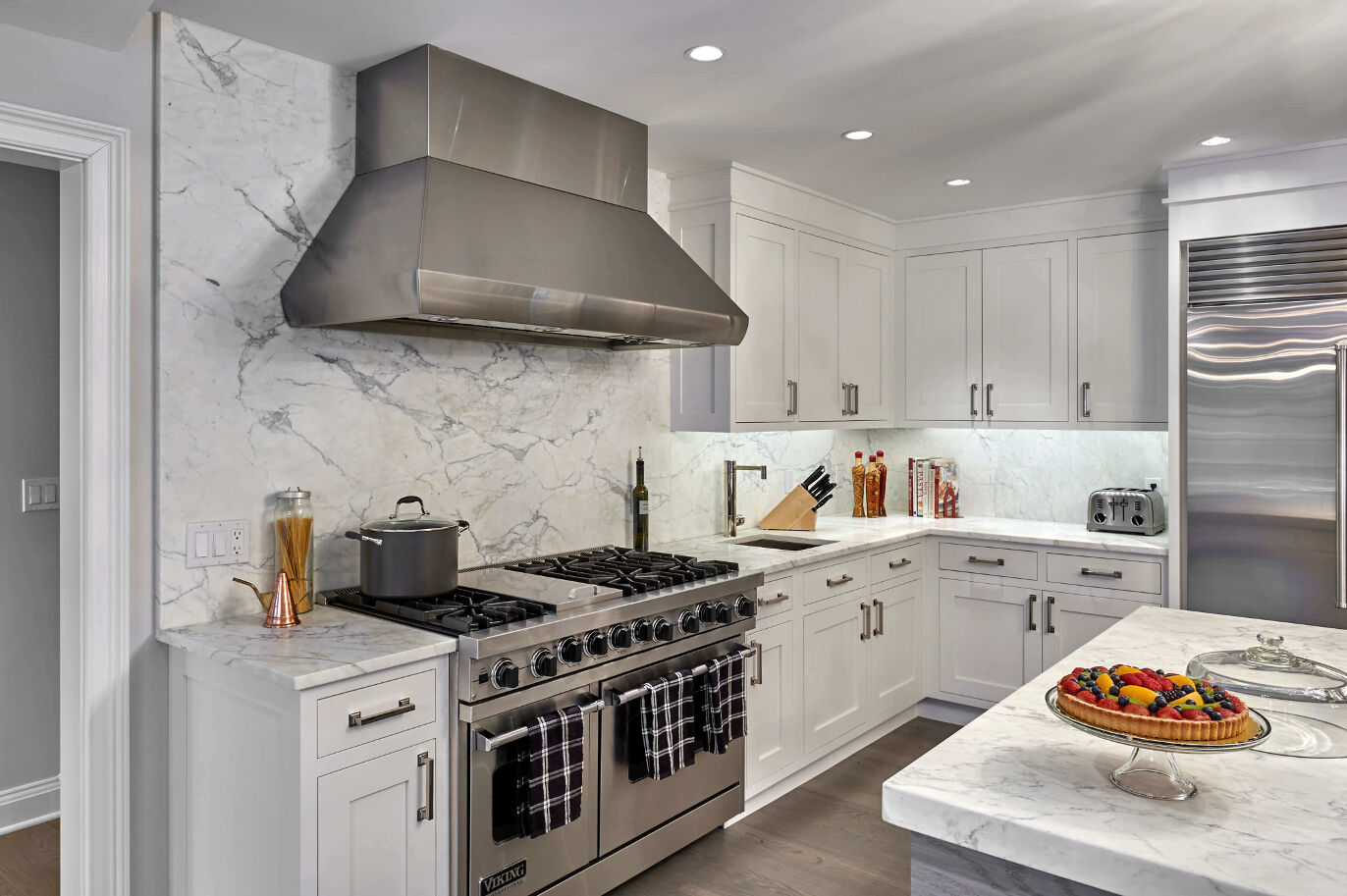 White Calacatta marble with a full-height backsplash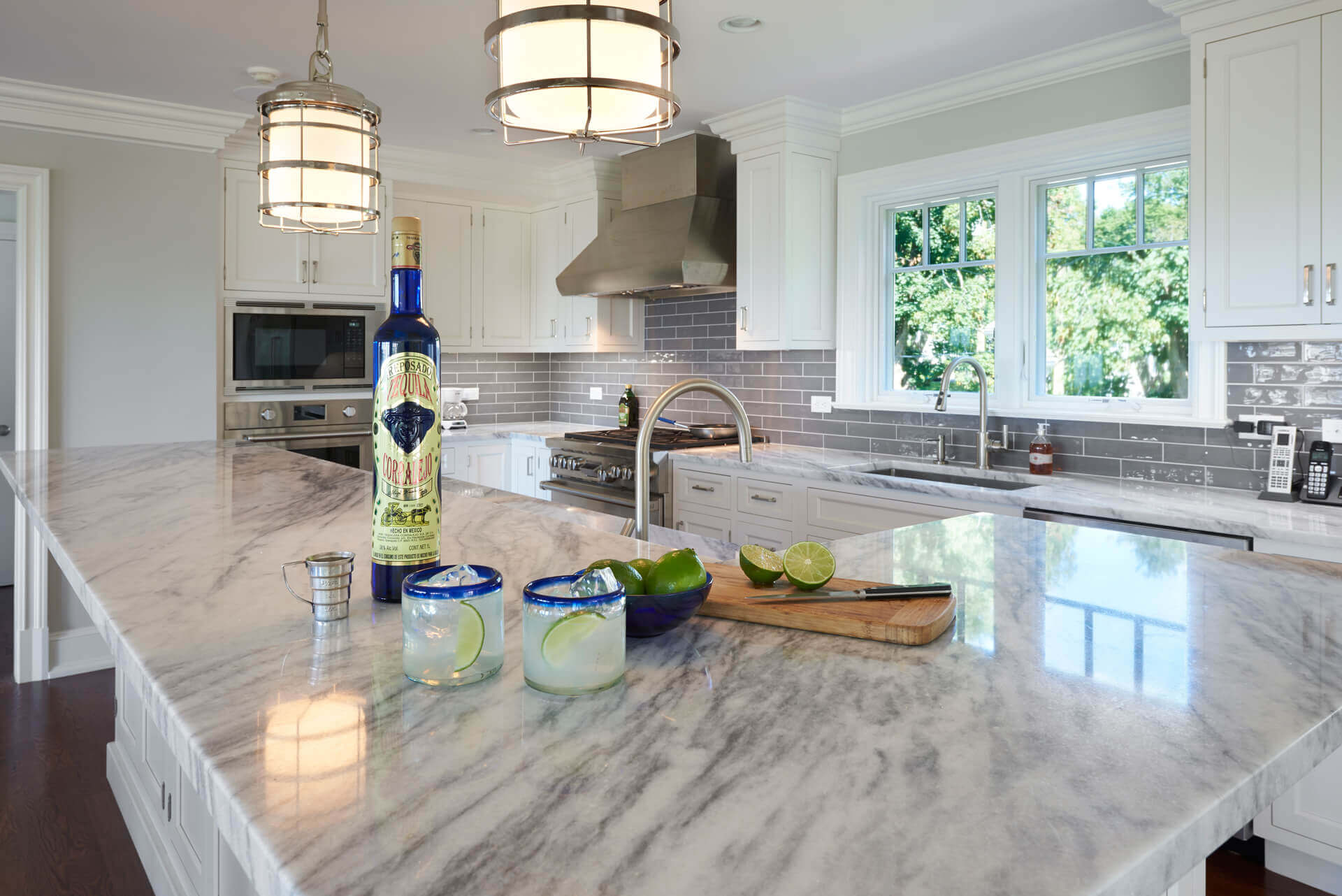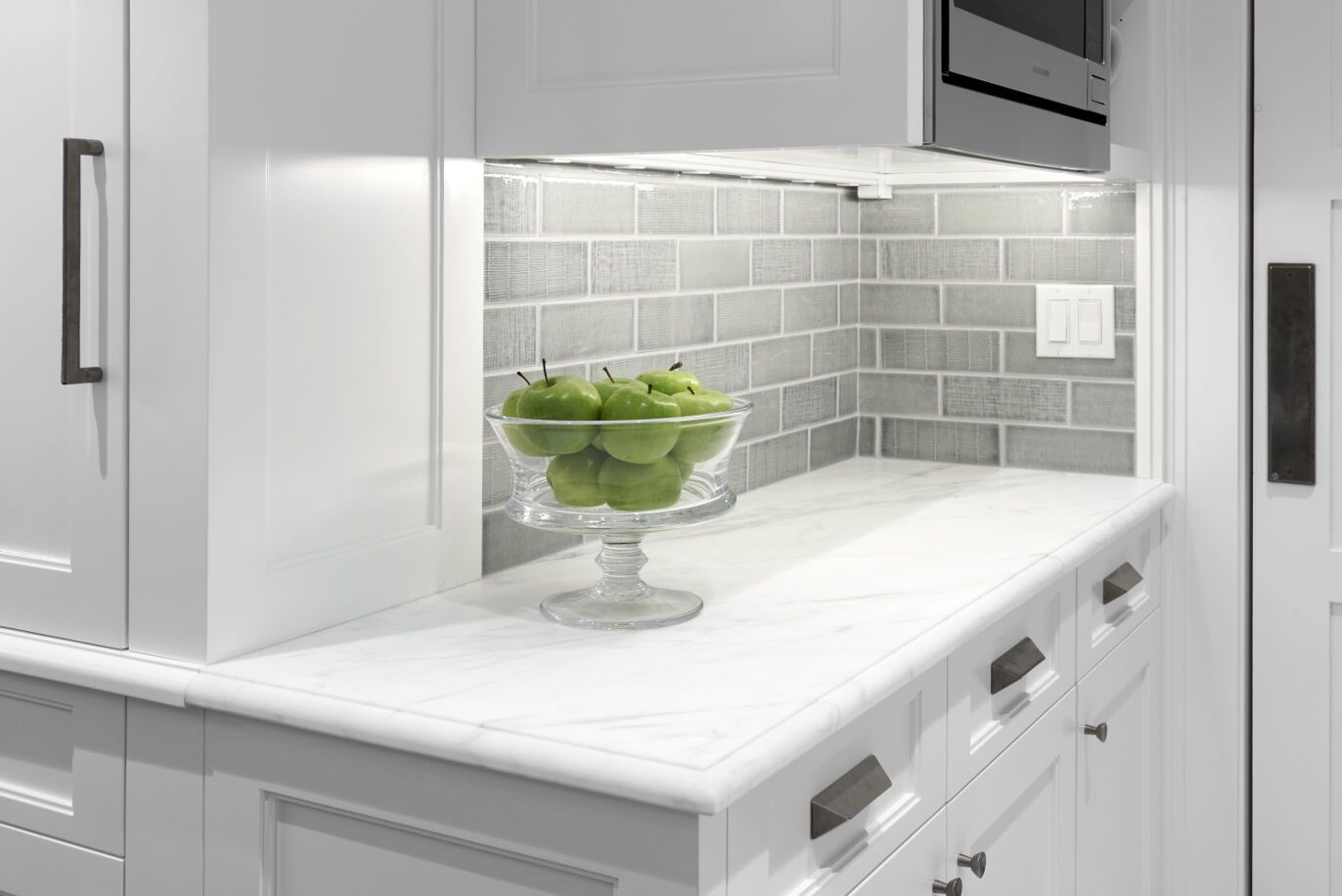 Imperial Danby marble with a lantern marble backsplash
THE LURE OF STONE
The Sardos have had plenty of time – more than 100 years -- to worry about the stone business and their place in it.
It all started in a 5,000 ft² space in the Bronx, N.Y., in 1905. Company founder Salvatore Sardo was an immigrant who made a success of the business, and saw that his two sons received college educations (at Fordham University, for which the company later became named).
Even so, his son Mario (father of the current owner) followed into the business, taking it over when Salvatore Sardo died in 1955. He ran it with a minor partner handling outside sales who allowed the younger Mario Sardo to tag along as he measured jobs.
The younger man says he always knew he would go into the stone business, which he did full time in 1968, filling in wherever he was needed. However, his life – and that of the company --took a serious change in direction in 1972. The partner died suddenly, and the senior Mario Sardo seriously considered closing the business.
That didn't sit well with his son, who by that time had a wife and a child (and another on the way).
"I told him I would go out and sell the jobs and measure them," the then-younger Sardo says. His father was skeptical, but willing to give him a try.
Five years later, the company hit $1 million in annual sales for the first time ("a lot of money in those days," he says), and he convinced his dad it was time to expand into a larger space. By selling the old building for more than the cost of the new one, Fordham Marble was able to expand into the 16,000 ft² shop it left just last year.
As the company's sales grew and it moved into doing more high-end residential projects, the Sardos faced another problem: The work they did was being turned out by aging craftsmen who did each task by hand.
Even before today's automated equipment became a reality, the younger Mario Sardo envisioned automated machines that could quickly and precisely turn out the stone products he was selling. Then, in 1986, on one of his numerous trips to Italy, he found one.
"I went to a show in Verona, Italy, and CMS/Brembana was showing its first milling machine," he says. "It was like the second or third one they had built, and it was the first one sold in the United States."
Today, the 10-person shop operates two bridge saws, the CMS milling center, automatic edge-polishing equipment, radial-arm polishers, and the company's newest acquisition: a five-axis Brembana Impact saw.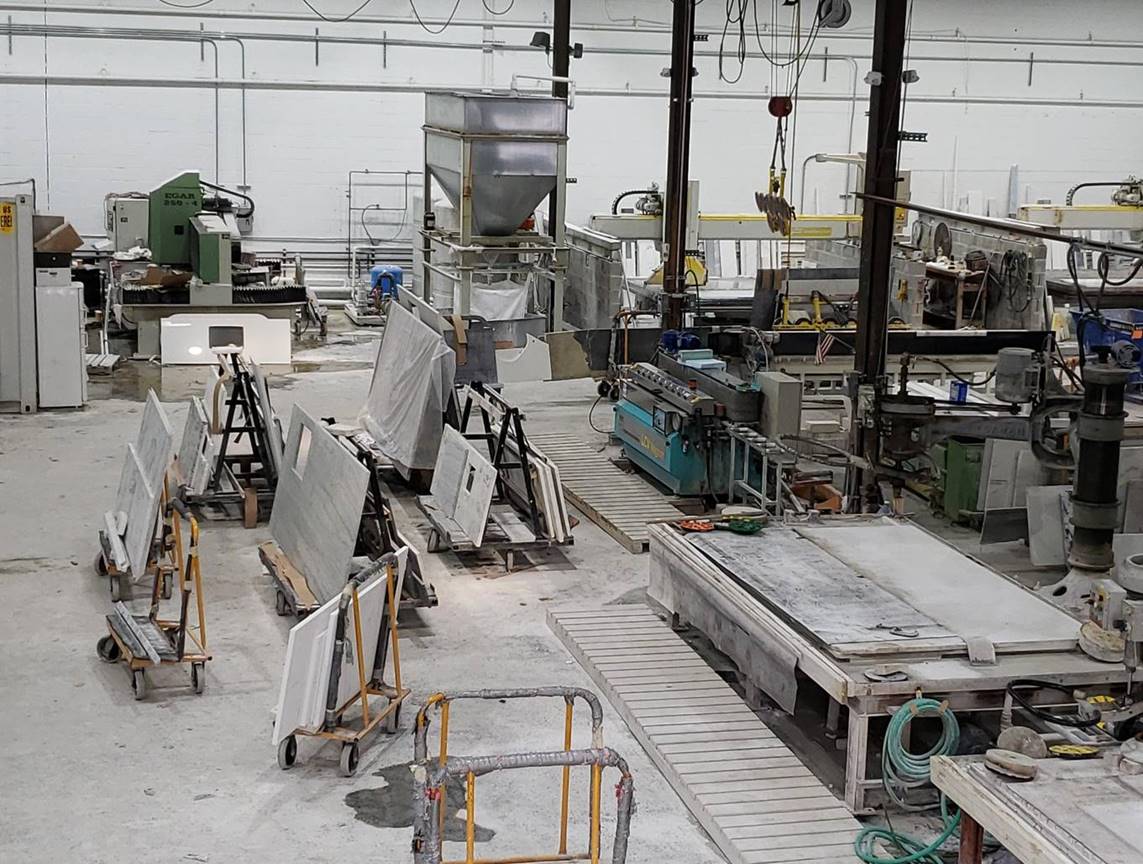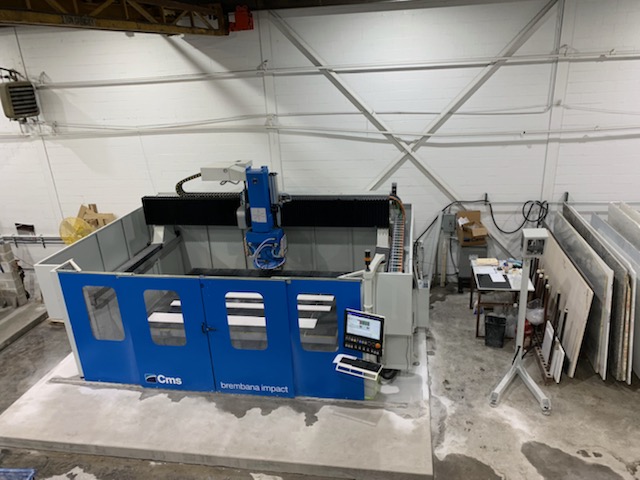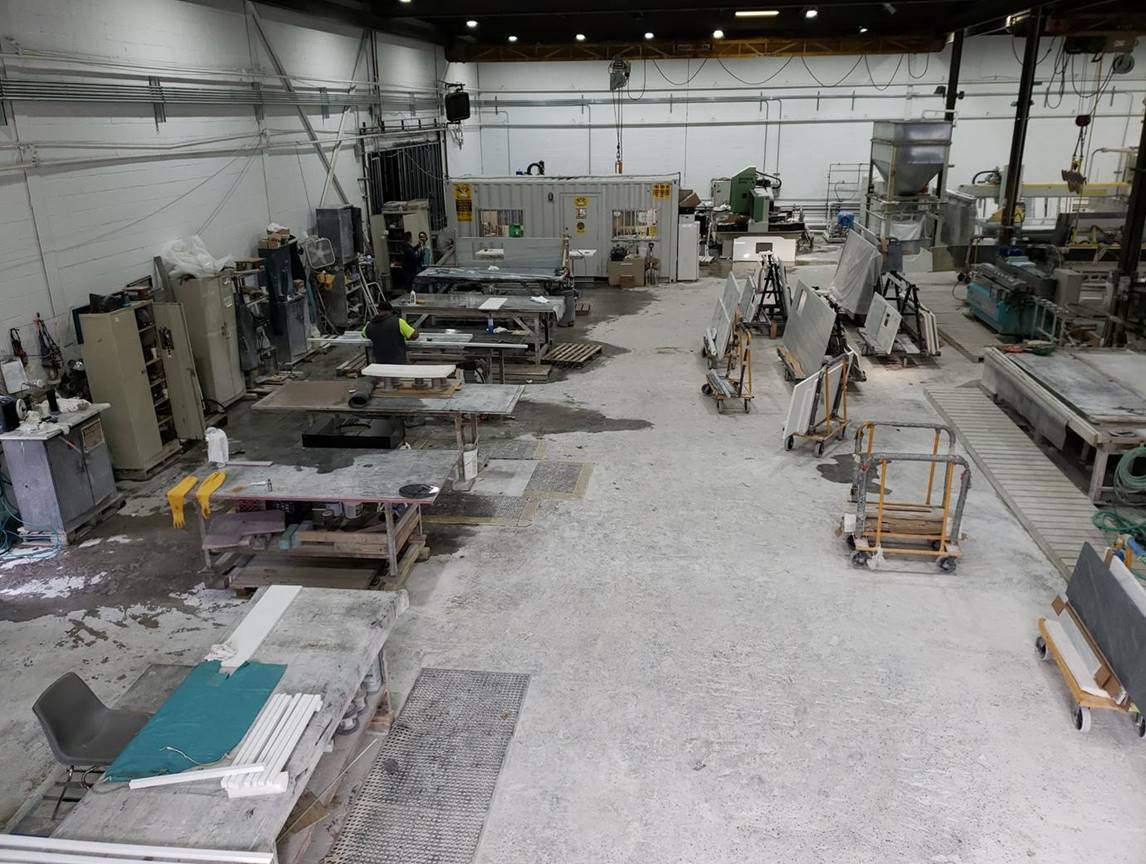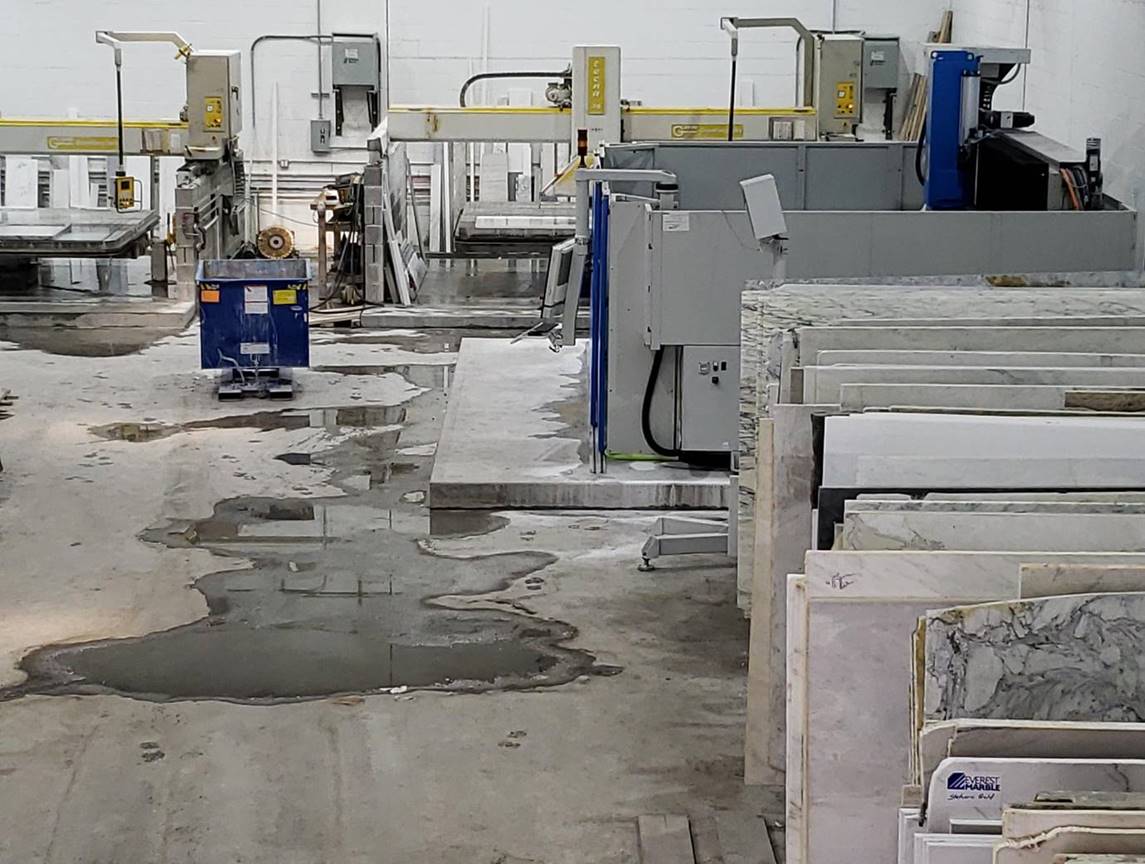 "It's all about service – the value you bring
to a project."
---
Mario Sardo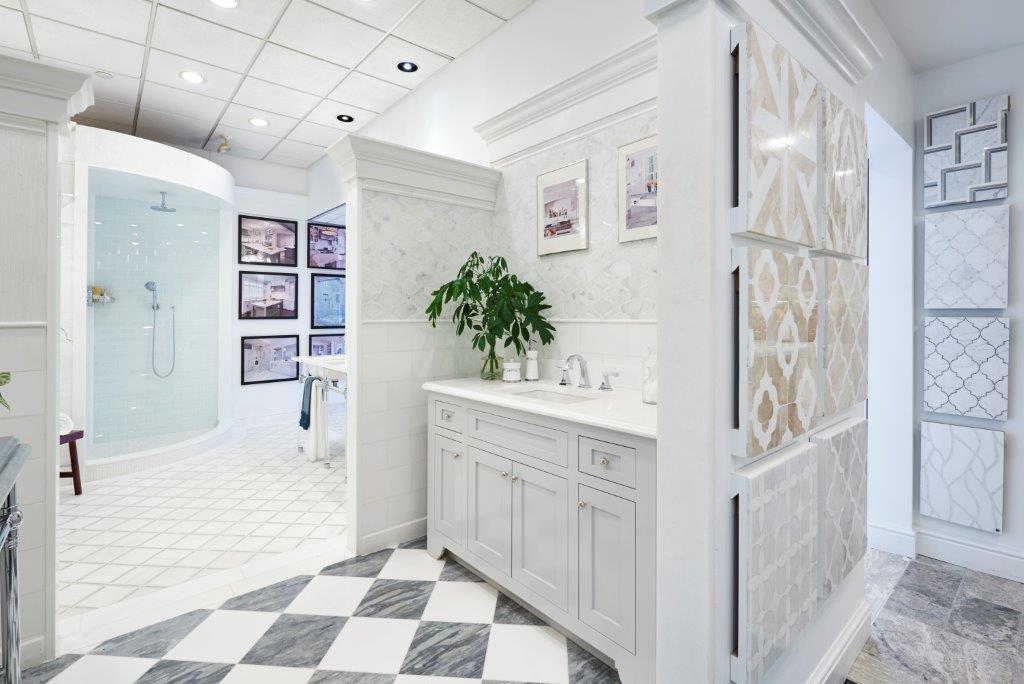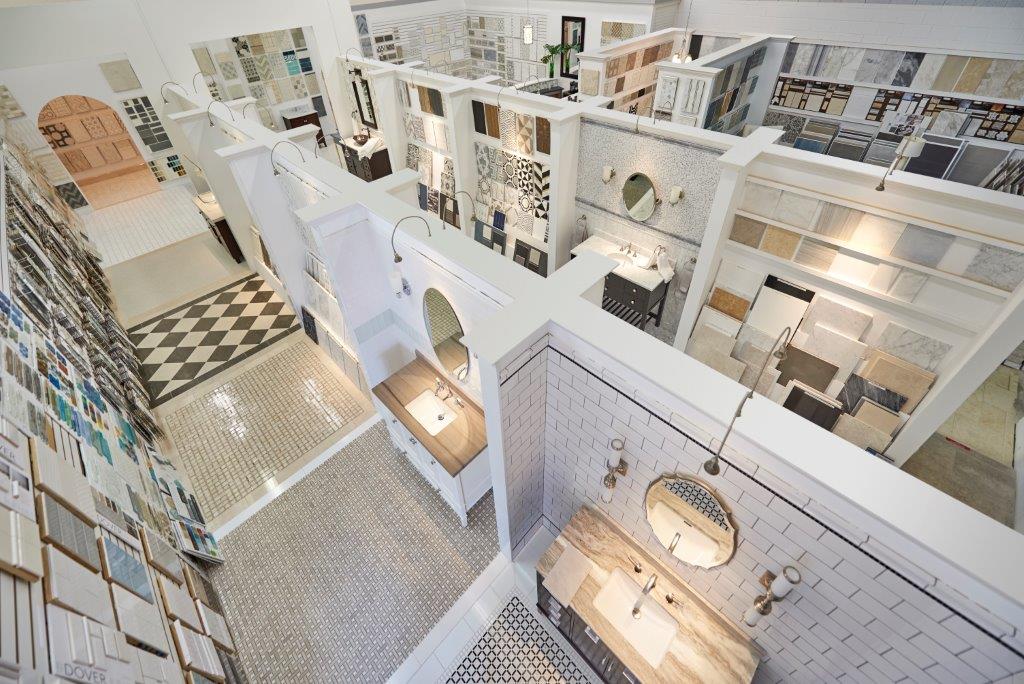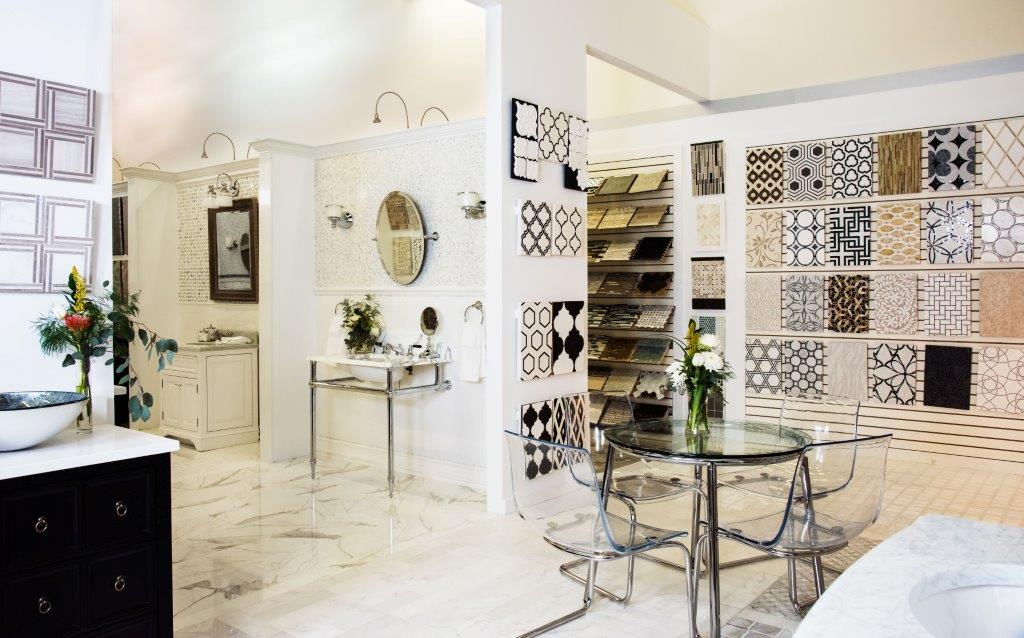 "THE VALUE PART OF IT"
So what is Sardo worried about these days?
"Well, business in general," he says. "The competition is very tough."
A perfectionist, Sardo is confident Fordham Marble is turning out a good product. It's those people who aren't quite as perfection-oriented, both in their products and their business practices, that intrude on his thoughts.
"There are a lot of smaller shops that have a lot of people working off-the-books," he complains. "It's tough to run a real business and be competitive when you have people that are not paying the insurance and other things that you're paying."
He says much the same about the way some people choose to make use of the company's showroom and the employees he refers to as "consultants."
Fordham Marble opened a 5,000 ft² showroom/office in Stamford in 1990 under the direction of Mario's wife, Joyce, who he describes as quite a stone expert in her own right. During the recession, the facility expanded to approximately 10,000 ft², with a yard where the company displays upwards of 250 different slabs.
Earlier in his career at the helm of Fordham Marble, Sardo imported some stone and encouraged clients to visit other yards to choose the rest. Now, he says it's a matter of convenience to offer the slabs at the showroom, -- and gives his clients a total experience.
"We give them more advice on what's suitable for their application, explain to them how they can't have a 140" island because the slab doesn't come in 140", and won't sell them a piece of engineered stone to put outside around a barbecue," he says. "Plus, we have a range of other products they can use to put their whole project together."
As for the larger showroom space, the company added a selection of tile products to diversify its offerings. Fordham Marble doesn't employ tile installers, but has a list of recommended craftsmen.
Value and service are still what Fordham Marble is selling. While Sardo prides himself on his slab selection and his years of experience choosing and buying the best natural stone, many of his clients today are going with engineered stone.
"People like it for the ease of maintenance," he observes. "But, from a fabricator's standpoint, when it comes to engineered stone, everybody has the same thing, so at that point, it's all about service – the value you bring to a project.
"We hope that we're going to deliver something more than they can get elsewhere," he adds.
"Today, people are used to this ridiculous fast turnaround they get from Amazon."
---
Mario Sardo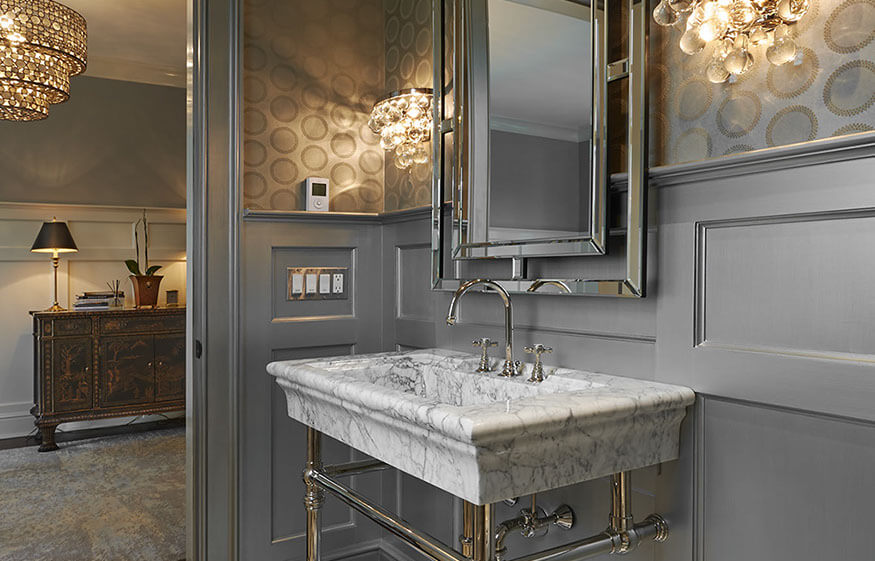 White Cararra marble sink
Statuary light-veined vanity top and tub top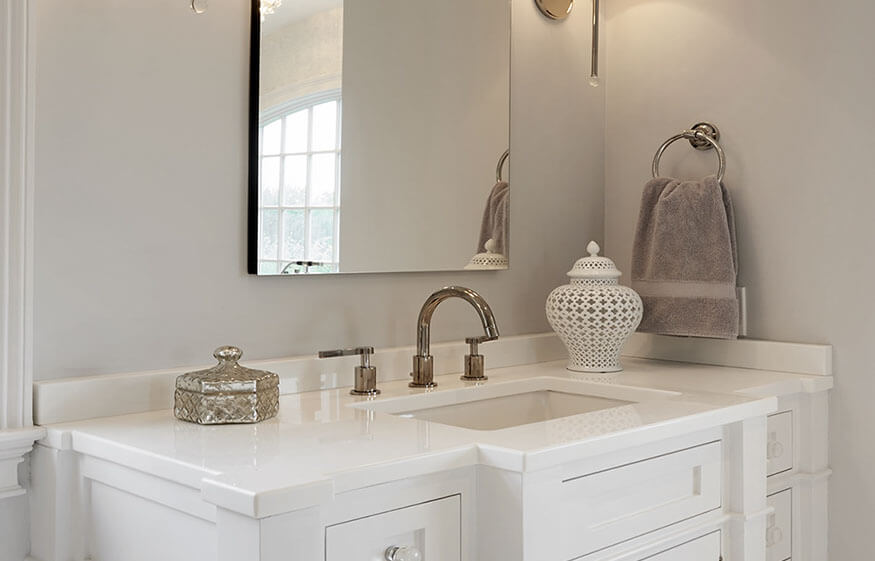 THE SPEED OF THINGS
If nothing else, it's that combination of first-rate equipment and the skills his shop crew brings to each job that Fordham Marble continues to offer.
"The machines only do so much," Sardo says. " After it comes off the machine, there's always something you have to do by hand.
"And, when you're dealing with marble or quartzite, there's always work you have to do on the face. If we buy slabs that are polished, we always end up re-polishing everything anyway."
These days, most of the work the company turns out is marble or quartzite, with engineered stone thrown into the mix. In the Tri-State area that's Fordham Marble's main market, the granite kitchen is out-of-fashion.
"Right now, nobody wants it [granite]," he says. "Maybe Absolute Black and some of the darker granites with special finishes, but none of the polished granite for kitchens. I don't think I've done a granite kitchen in three years."
Like so many other shops, Sardo says he faces the same problem he did when he first began investing in equipment: It's difficult to get good people.
"When somebody shows up that's got the skills and is able to work, we hire them," he says. "As far as training the people who operate the CNC machines, that's a different thing. When I bought the Impact saw,
"I took a guy off a bench that I thought was doing a good job. I try to take somebody from inside the company and move them up."
Sardo won't admit it, but he's pleased that most of the crew who had worked for him in the Bronx relocated to Bridgeport when the shop moved. The one employee who didn't is now commuting.
"It's quite a commute," Sardo says. "He comes by train, so I give him flexible hours. He starts a little later and works less hours, but he's very good."
The move to Bridgeport is the culmination of a story that began when he sold the Bronx building a couple months before the recession hit. The real estate investment trust (REIT) that purchased the property as part of a massive apartment project ended up leasing it back to him when real estate collapsed.
"Then, just last year, after all this time, they came back and said I had to get out," Sardo relates. "They gave me a month, then four months, but I didn't leave for six months. I bought a new 30,000 ft² building and now we're all under roof in Bridgeport. I have a whole bunch of cranes and it's a nice building for my business."
While the building is one part of the company's recession story, the other part is that Sardo was extremely close to selling Fordham Marble at about the same time.
"The guy lost his financing because the SBA (Small Business Administration) decided not to underwrite any loans to construction-related businesses," he explains. "That was one week before the closing. It was discouraging."
These days, Sardo describes himself as "an elderly gentleman in the marble business," and calls himself semi-retired, which means he's only working 80 hours a week, down from 100 a few years ago. Neither of his sons is interested in the business, and they're living the lives Salvatore Sardo probably envisioned for his sons when he sent them off to Fordham University so many years ago.
In short, Mario Sardo would like to sell the business and retire. Since that's not in the offing, he sees the need to expand – possibly buying a related business or two – and continuing to perfect his skills.
Earlier this year he traveled to Ft. Pierce, Fla., to learn how to use the Prodim Proliner digital templating system the company uses and to buy the updated version for his regular templator. Having learned to measure a job using pencil and paper, he finally decided it was time he changed.
"I still measure jobs when we get busy," he says. "People don't want to wait, and I need to turn in digital files. I needed to streamline what I was doing."
Sfter all these years, he's still trying to give his customers a better experience.
"Today, people are used to this ridiculous fast turnaround they get from Amazon," Sardo concludes. "They don't realize in our business there's a process. It must be measured. A lot of times people want a physical or photo layout to approve. It must be manufactured, and it has to be installed. You have to be able to turn the work out fast."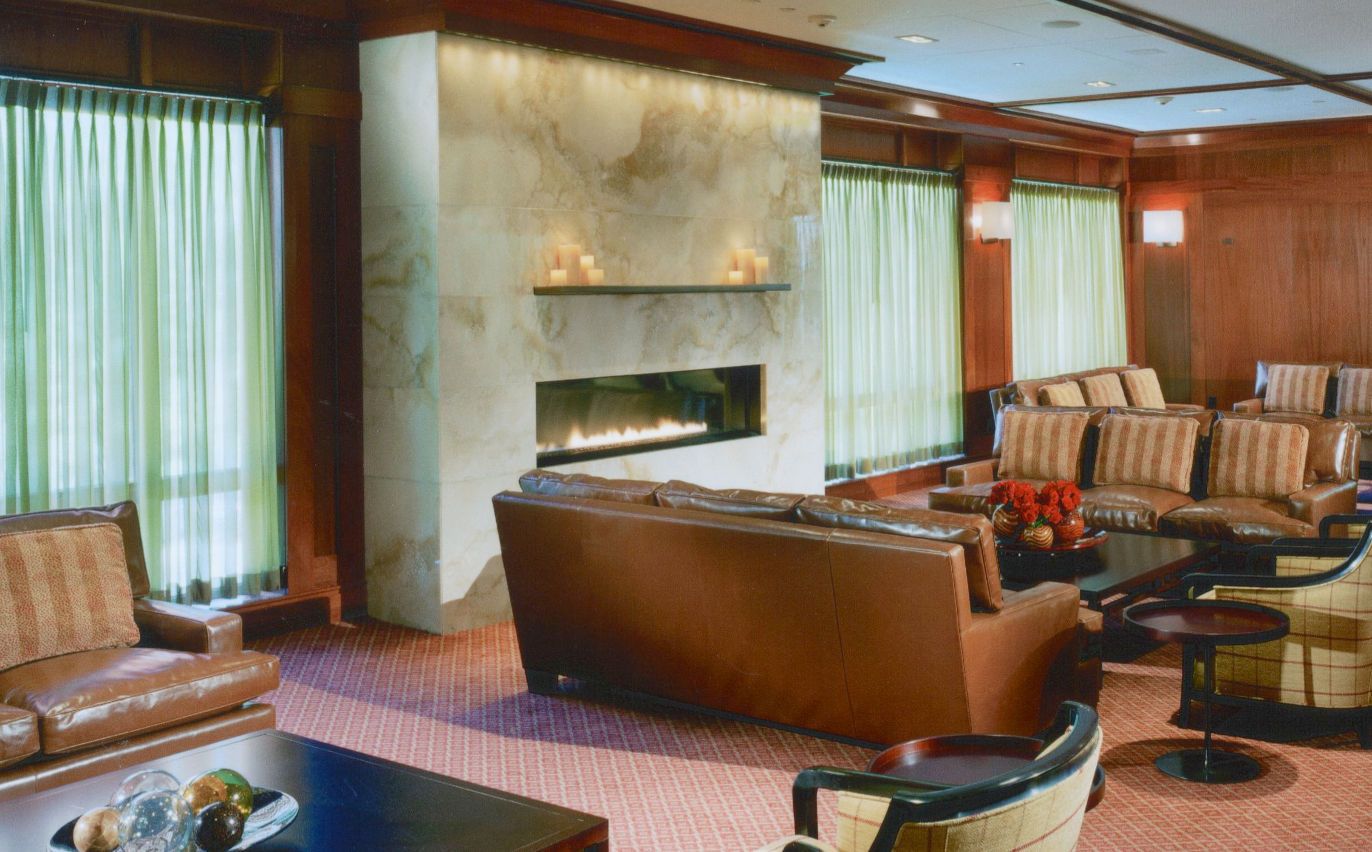 Fireplace in a commercial-building lounge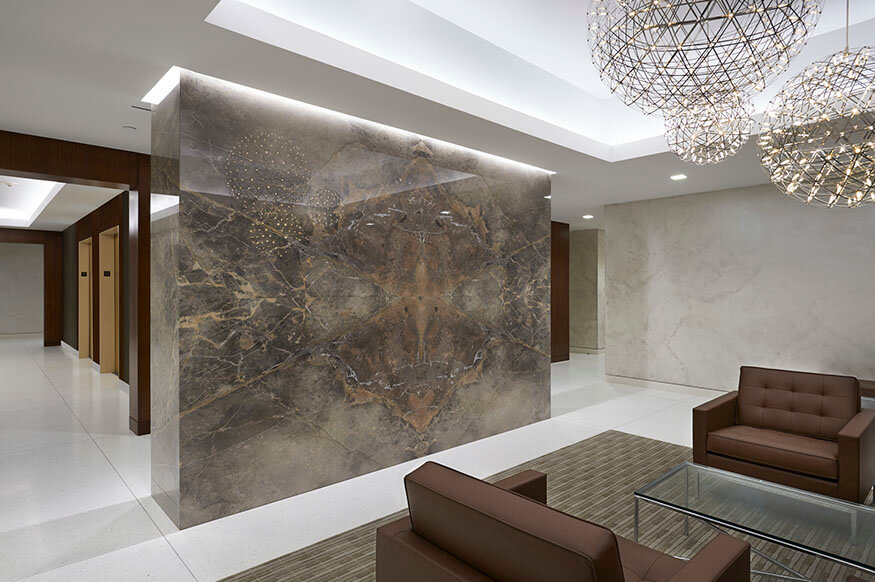 Marble column in a commercial-building lobby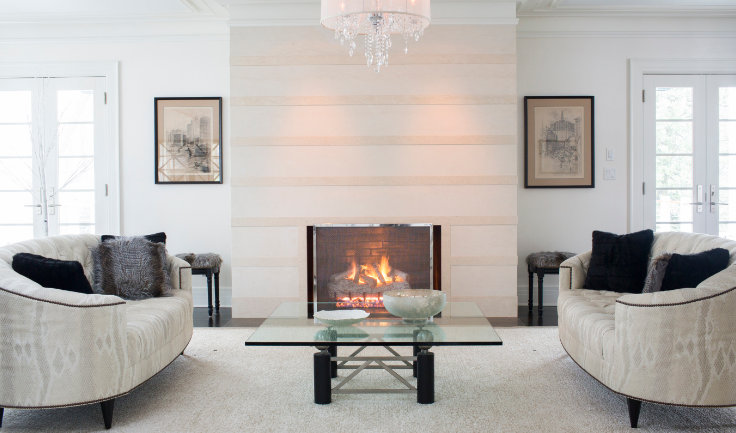 Marble column in a commercial-building lobby