St. Cloud, Minn.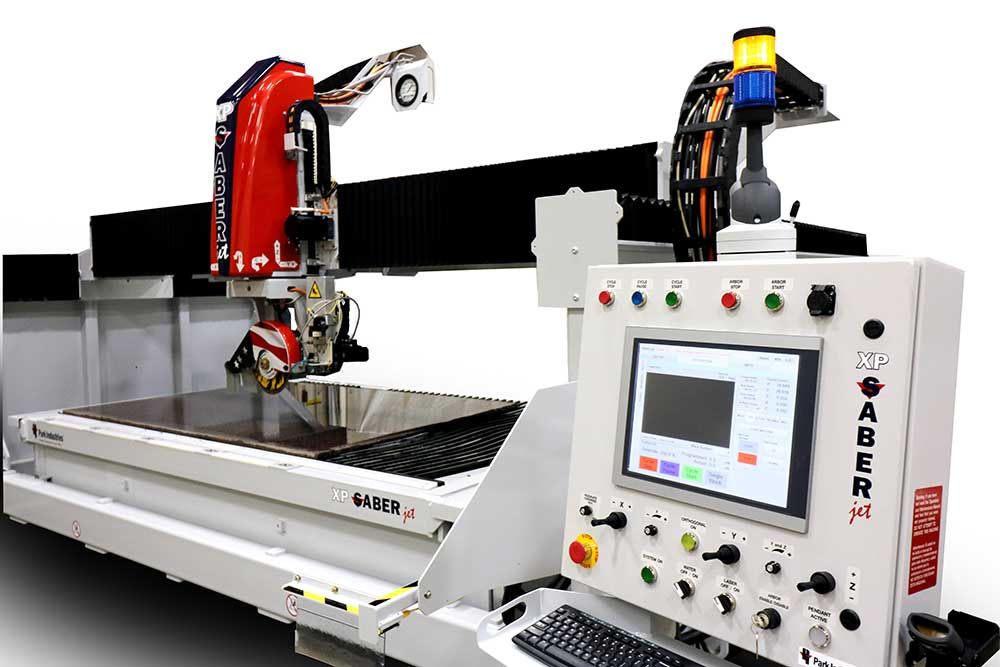 Varies based on multiple option selection
Production area (X & Y axis travel)
3 Table (Tank) Options:
Standard: 144" x 84" saw blade and waterjet coverage
Ballast: 144" x 84" saw blade and waterjet coverage
Slab Loader: 132" x 81" saw blade and waterjet coverage
Maximum weight on worktable
Number of controlled axes for production
Maximum thickness of stone to be worked
Maximum tool diameter allowed
Number of tools in changer/magazine for use
Minimum/maximum speed of spindle
1,750 RPM Standard
1,200 RPM – 2,500 RPM Optional VFD
Open-Architect CNC Controller
Machines linkable to network
Waterjet-head option available
North American-based support
Installation/Training
Maintenance
Repair
Introducing the evolution of the bestselling sawjet on the market, SABERjet™. The new SABERjet™ XP powers up with an industry-leading 27 hp saw arbor to make cutting even the hardest materials a snap. This, paired with the new Hypertherm® predictive maintenance 50 hp or 60 hp waterjet systems, provides unmatched processing speeds and shop efficiencies.
The XP introduction also comes standard with automated programming routines specifically designed to cut ultra-compact, quartzite, and porcelain materials with increased speed, precision, and reliability.
Blade and Waterjet Miter Capability including Simultaneous 5-Axis Waterjet Cutting
Saw Arbor 27 hp to Cut Hard Materials
Automated Ultra-Compact Programming Routines for Ease of Programming
Auto Grease System for Ease of Maintenance (Optional)
NEW Hypertherm® Predictive Maintenance Pump. 50 hp or 60 hp Available
3 Tank Options:Patented Slab Loader, Ballast, Standard
Other CNC models available
OPTIMUS Robotic SawJet
SABERjet CNC SawJet
FUSION CNC SawJet
VOYAGER XP CNC Saw
TITAN CNC Router
TITAN FabCenter
Park Industries
6301 Saukview Drive
St. Cloud, Minn.
800-328-2309
320-251-8126