St. Cloud, Minn.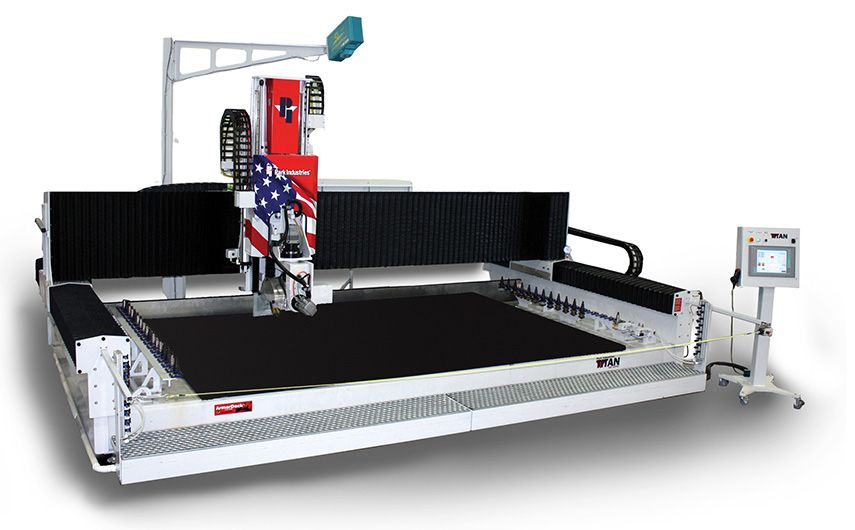 Varies based on multiple option selection
Router (Spindle):13'1" x 8' 1"
Saw (Non-Miter): 11' 1" x 7' 3"
Saw (Miter): 11' 1" x 6' 9
Production area (X & Y axis travel)
Number of controlled axes for production
Maximum thickness of stone to be worked
Maximum tool diameter allowed
Number of tools in changer/magazine for use
34 with Integrated Tool Management System (ITM), 36 without ITM
Minimum/maximum speed of spindle
Variable up to 10,000 rpm
Open-Architect CNC Controller
Machines linkable to network
Waterjet-head option available
North American-based support
Installation/Training
Maintenance
Repair
4 HP 10,000 RPM Quantum Electro Spindle backed by Park's 5-year warranty.
CNC servo-driven mitering capabilities (up to 47°) to produce mitered apron edges in a matter of minutes.
User-friendly iTEC Interface technology; intuitive bar-coded system is programmed specifically for your operation for automatic loads and starts.
Integrated Tool Management™ (ITM) system extends tool life by up to 50% and saves tooling costs by automatically monitoring, measuring, and compensating for tool wear.
The unique ArmorDeck work surface holds pieces in place with a powerful suction for greater production speed without parts shifting. In fact, it has 30% better holding power than aluminum surfaces and will never corrode or dent. The unique process produces an aesthetic black finish that impregnates the material for strength and durability. The treatment actually changes the composition of the material on the outside of the part.
OPS Productivity reporting allows analysis of production REAL-TIME, on a daily, weekly, and monthly basis.
Park Industries
6301 Saukview Drive
St. Cloud, Minn.
800-328-2309
320-251-8126