Continued from previous page
The resulting product met with the approval of the tough-to-please retailer (which also retains exclusive use of its specific color). The successful development of BIO-UV also led Diresco to a major corporate redirection … and shift to eventually making all its surfaces with the process to capitalize on its unique position.
"We are the only ones using biological resin," Bongers says. "We are using raw materials picked out from a quarry, and this biological resin adds a lot so we could say we are only using natural materials."
The transition of Diresco's entire line to BIO-UV means that the company will develop a new market – exterior architectural installation.
"That's big work for us to inform the market that we're giving the entire product line outdoor durability," De Brandt says. "The BIO-UV becomes extremely important; they have to do commercial jobs and, in the United States, they are obliged to assist with LEED® (Leadership in Environmental Efficiency and Design)."
That commitment is more than a buzzword for taking Diresco outdoors. The company is working with two mounting-systems companies – KEIL in Germany and IPEX in The Netherlands – in developing anchor-bolt and direct-to-material fastening systems for best use with the BIO-UV quartz surfaces.
The aggressive changes coincide with Diresco aiming more product at the United States.
Going outdoors with BIO-UV opens new territory for Diresco, including quartz-surface building cladding. The company worked with outside vendors to develop both anchor-bolt and direct-to-material mounting systems to meet a variety of demands.
Photos by Emerson Schwartzkopf
Not surprisingly, the largest market for the company to date has been northern Europe, but the immense growth of quartz surfaces in the U.S. market – and now the ability to meet the needs of eco-conscious designers and architects – creates an ever-widening channel for Diresco slabs.
"The United States is our fastest-growing market," Bongers says. "It's now up to 25% of output."
Diresco's focus on efficiency keeps the product moving across the Atlantic, with quick transport to the Belgian port of Antwerp, Europe's second-largest seaport.
"We have very, very quick lead times, based on where we're located," MacLeod says. "We have vessel service that arrives in New York in six days from Antwerp."
That's also going to drive an expansion of Diresco's product colors, which historically reflected an appeal for European contemporary design. Both Bongers and De Brandt note that the company continually watches for trends in furnishings, paint and other design products to adjust color selection.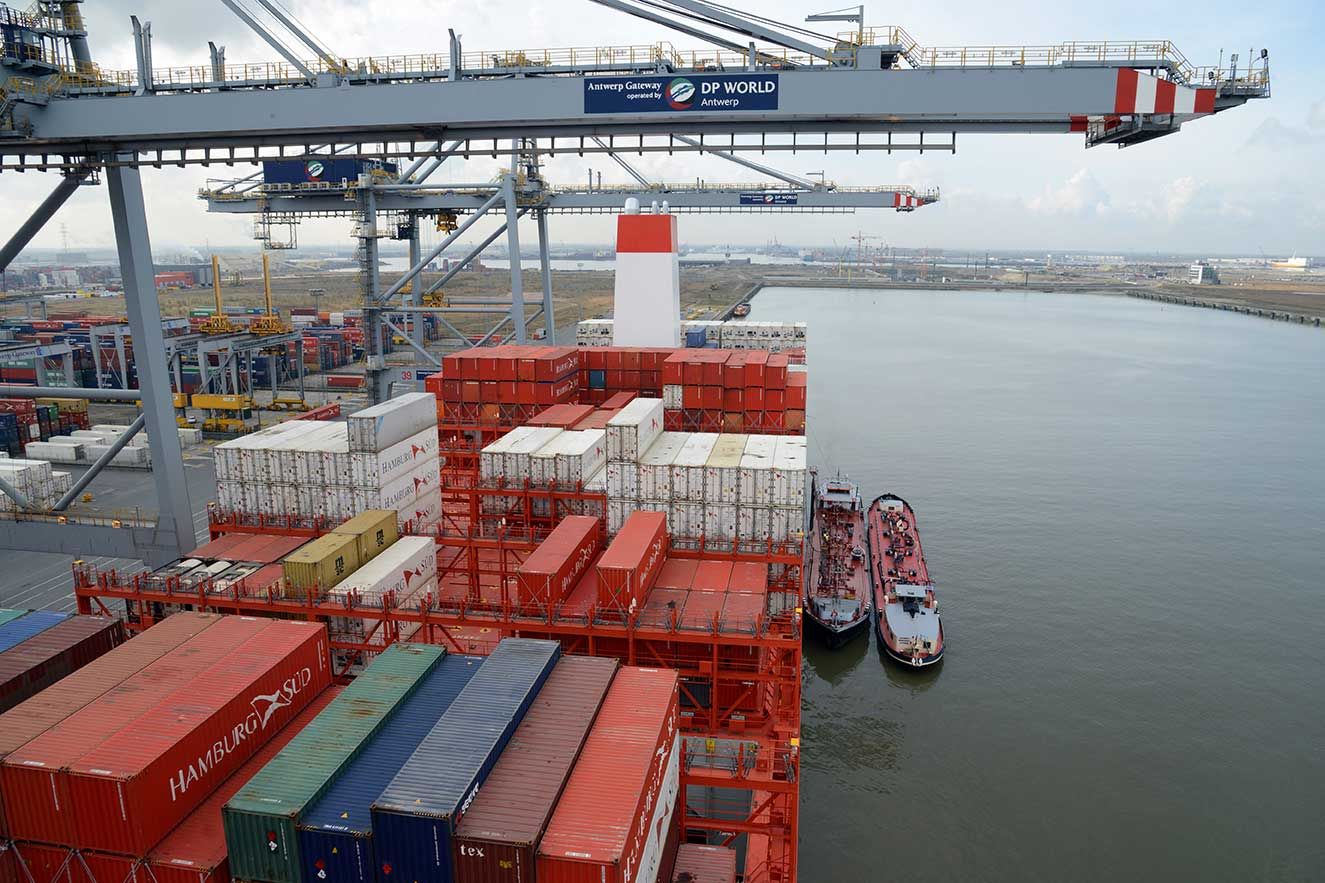 Photo courtesy Port of Antwerp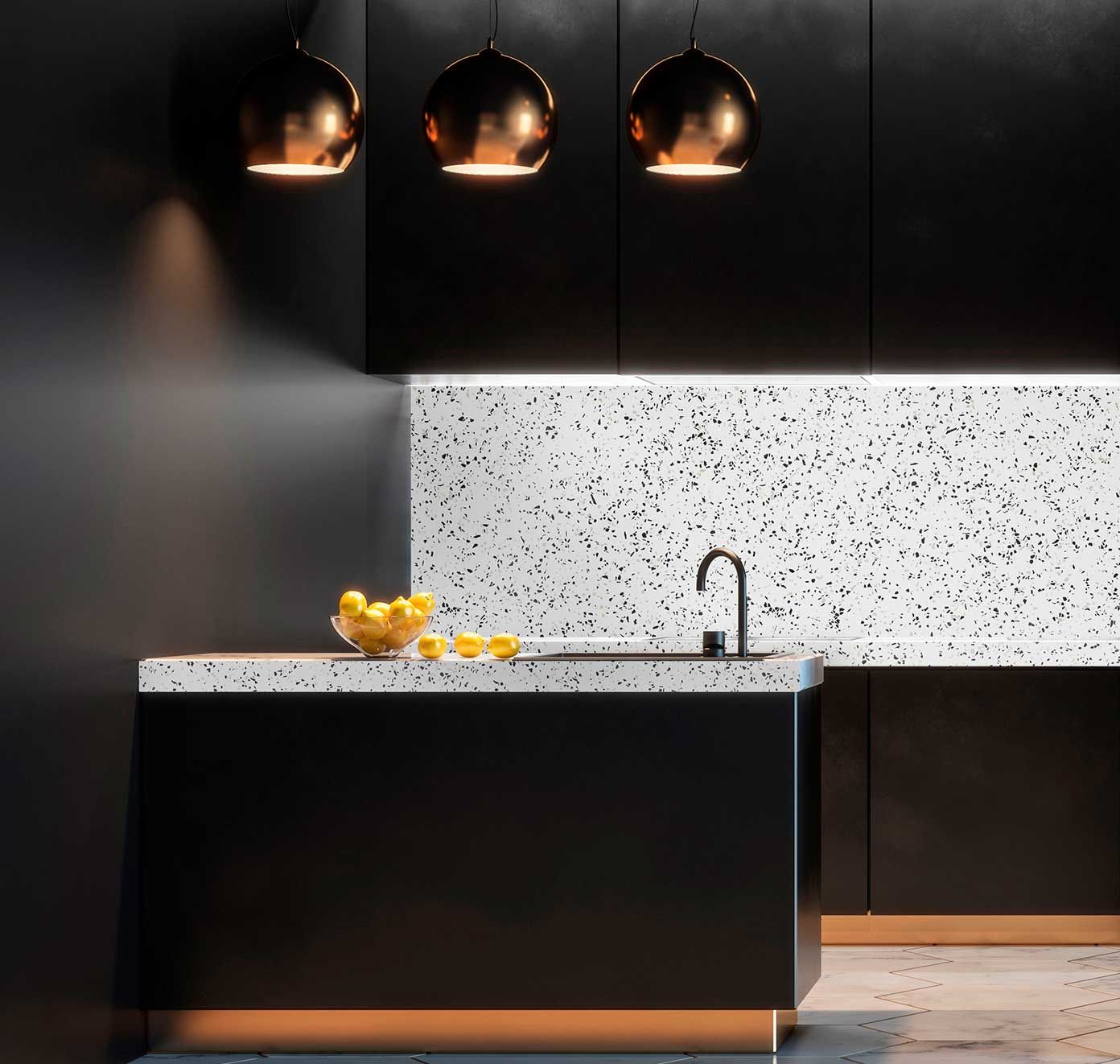 Photo courtesy Diresco
Diresco's commitment to eco-friendly is literally built-in to the product with its Terrazzo surfaces, where scrapped slabs from other lines are crushed and used as part of the mix.
One concept that remains constant for Diresco, though, is a commitment to quality. It's something that nearly every company will claim, but Diresco reinforces it in several areas – including the environment. One of Diresco's marketing adages is that its product is Touched by Nature, and BIO-UV is just the latest step in keeping Diresco on the green path.
For example, Bongers notes that the company has been recycling waste from the factory's water-treatment system for use in local road fill. Now, with the new BIO-UV manufacturing process, that waste is eco-friendly enough to be used for roadside drainage fill.
Other recycling efforts in the factory include using scrap from some rejected slabs. Rejected slabs are crushed to little fragments and recycled in Diresco's quartz Terrazzo line. And even the rubber molds used for slab production find a good use after retirement by being recycled into material used for playground mats.
The company also is in the planning stages for generating its own power with rooftop solar panels. There's also increased efforts to eliminate styrene from all parts of production.
There's also a respect at Diresco for its workforce – a group that's shown to be very, very loyal to the company
"We have a lot of people here who started with the company on its first day," Bongers says. "I think more than 50% of the crew is from those days.
"There is a passion here for the products, and a passion for nature, for the raw materials from the environment that we work with. We're always inspired and innovative. We know that, as a smaller company, we have to be on top of innovation."