Big Ideas, Verified Results
Belgium-based Diresco's outdoor-durable material is a major step forward into
the U.S. market

Photo by Emerson Schwartzkopf
By Emerson Schwartzkopf
OUDSBERGEN, Belgium – From the outside, the headquarters for Diresco brings a simple-but elegant touch to its industrial-park surroundings, with a clean contemporary design and a nice touch of limestone cladding for the front-office section.
Except that the cladding isn't stone. It's Diresco's quartz surfacing made in the factory behind the building. Despite not being made for outdoor use, it still looks good after years facing the Northern European climate.
In many ways, that cladding offers plenty of insights into the company's character – well-made, precision goods offering optimal performance, along with a strong confidence to stand behind its products.
It's also an interesting lead-in to the company's future, with its development and introduction of certified outdoor-durable quartz surfaces for its full product line. That future also includes more eco-friendly elements and processes for manufacturing while maintaining – and improving – the product overall.
Diresco's latest development of BIO-UV brings two new factors to the market: a quartz surface fully manufactured for exterior uses, and the use of green components in its construction. It's a combination that pulled plenty of attention at this year's Kitchen and Bath Industry Show (KBIS) and the event's 2019 award for Innovative Surfaces.
There's no doubt that plenty of people at KBIS this year saw Diresco as a new upstart in the industry, but the reality is the opposite. It's a company with a long, long pedigree in quartz surfaces … and some fabricators have already (and unknowingly) worked with Diresco slabs over the years.
Diresco's headquarters/factory, located 55 miles east of Brussels, started as a concrete panel factory. When owners Chris and son Dirk Schelfhout sold that business to a large European conglomerate, they took up the then-relatively new Breton S.p.a. process for manufacturing quartz surfaces in 2003.
"I think people are surprised when we tell them we're the fourth- or fifth-oldest quartz company in the world," says Scott MacLeod, CEO of Diresco USA. "We've been here for 16 years."
Fabricators in the go-go years of the early and mid-2000s may also be more familiar with Diresco products than they might realize. While other quartz-surface companies made a name for themselves worldwide with their brands, Diresco made some of their products as a contract manufacturer. The brand name may have been different, but some slabs were made at Diresco's two Breton production lines in Belgium.
The Great Recession, however, shrank quartz-surfaces demand and the need to call on Diresco for outsourcing. The company renewed its focus on its own lines and its regional European market, including the introduction of Belgium Blue, inspired by the look of Belgium's namesake indigo-blue/grey limestone. It's still the company's biggest seller.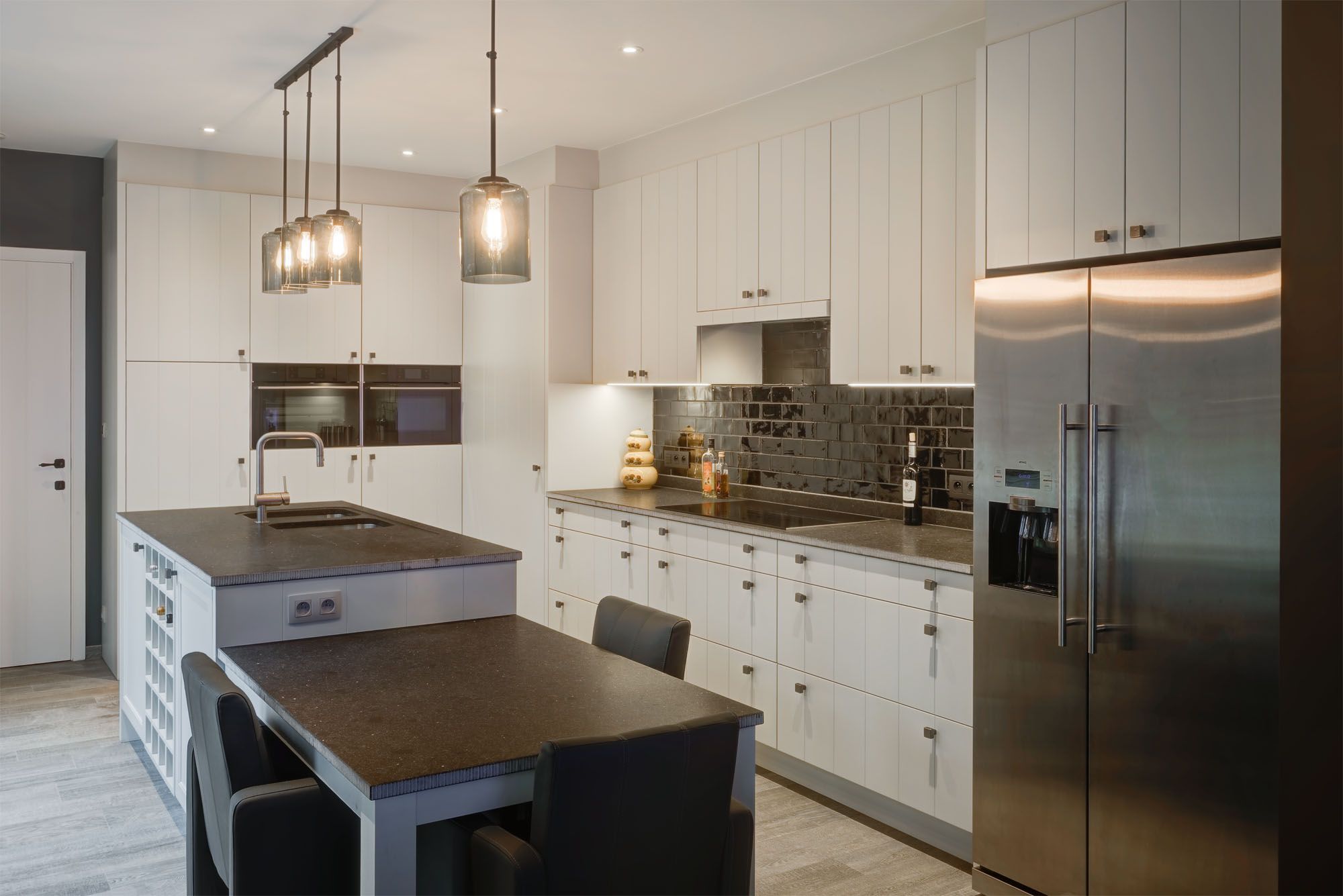 Photo courtesy Diresco
Diresco formulated Belgian Blue in the style of the limestone used for centuries in constructing some of the country's impressive architectural landmarks. It remains the company's most-popular product.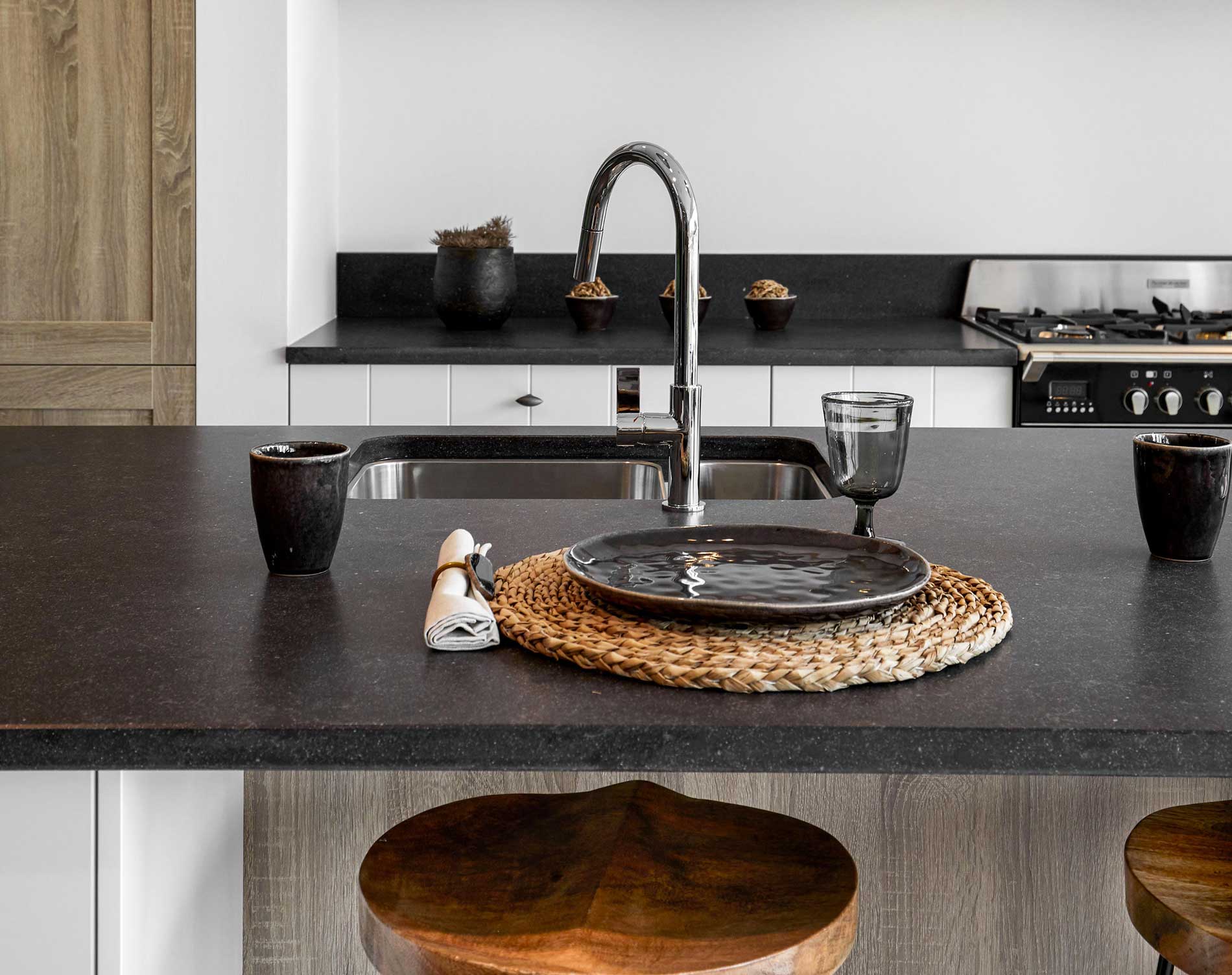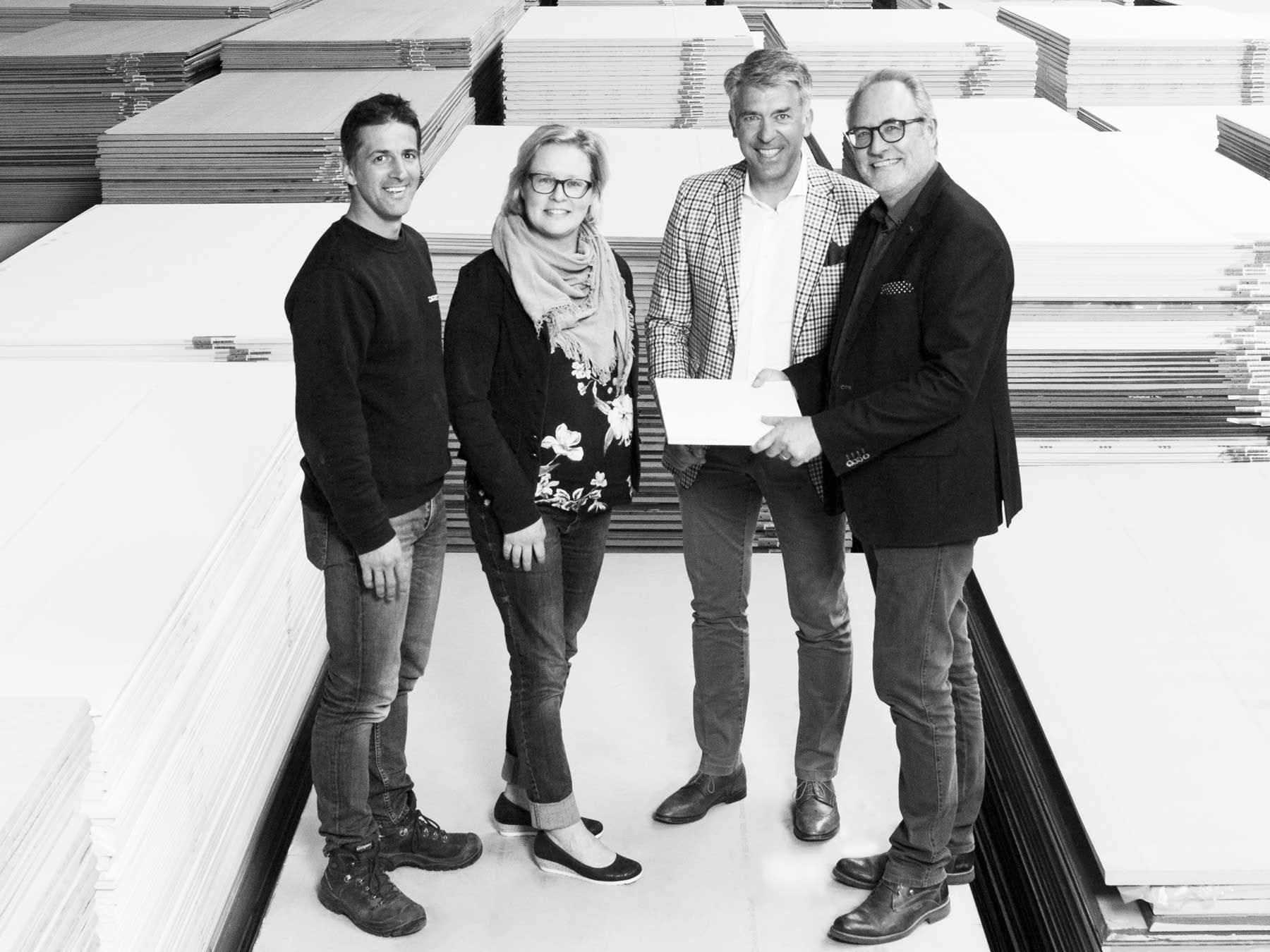 Photo by Johan Bakels/courtesy Diresco
Diresco co-founder Dirk Schelfhout, Director of Finance/Administration Joke Segers, CEO Jos Bongers and Commercial Director Bruno De Brant atop the company's unique storage system.
"In Northwest Europe we are number one in the production of quartz stone," says Bruno De Brandt, Diresco's commercial director. "We have a location of 30,000 m² (322,000 ft²) with a storage capacity of 25,000 slabs and an installed capacity for 150.000 slabs/year."
In comparison with other quartz-slab producers with sprawling industrial campuses. Diresco looks, well, modest in size. That's something that doesn't bother CEO Jos Bongers one bit.
"The fact is that we are a small company," says Bongers, who took over daily corporate management from Chris Schelfhout in 2017. "We see this more as an advantage than a disadvantage because we can we canreally make fast decisions. We are only working to deliver high quality."

Bongers likes to emphasize that "product development is the heart of the company," and it's more than a platitude for Diresco.
Co-founder Dirk Schelfhout continues working on technological advances – "he is very creative in always finding a solution," Bongers says -- including the customizing of its Breton production lines. Other innovative touches include the unusual way it keeps its inventory (see sidebar).
Diresco also continues improving quality control, with one important step taking place before the slab-making starts with extra refinement of the main component.
Quartz arrives at all slab factories worldwide in large plastic bags, with the rock ground to a fine sand. The sand is quality-graded, depending on how the material is sorted for contaminants, and priced accordingly – although Diresco found that high-grade quartz sand still created problems.
"What we found, quite consistently, was contamination, whether it's iron ore or different contaminants within the raw material we were receiving," MacLeod said. "We decided we would be the first quartz manufacturer to take sorting technology and bring it internally.'
Diresco still puts the raw sand through the usual gravity-feed sieve, but there's an added process – depending on the source of the sand – of microscopic optical inspection to separate finer contaminants. The result is a significant reduction of visual flaws in slabs.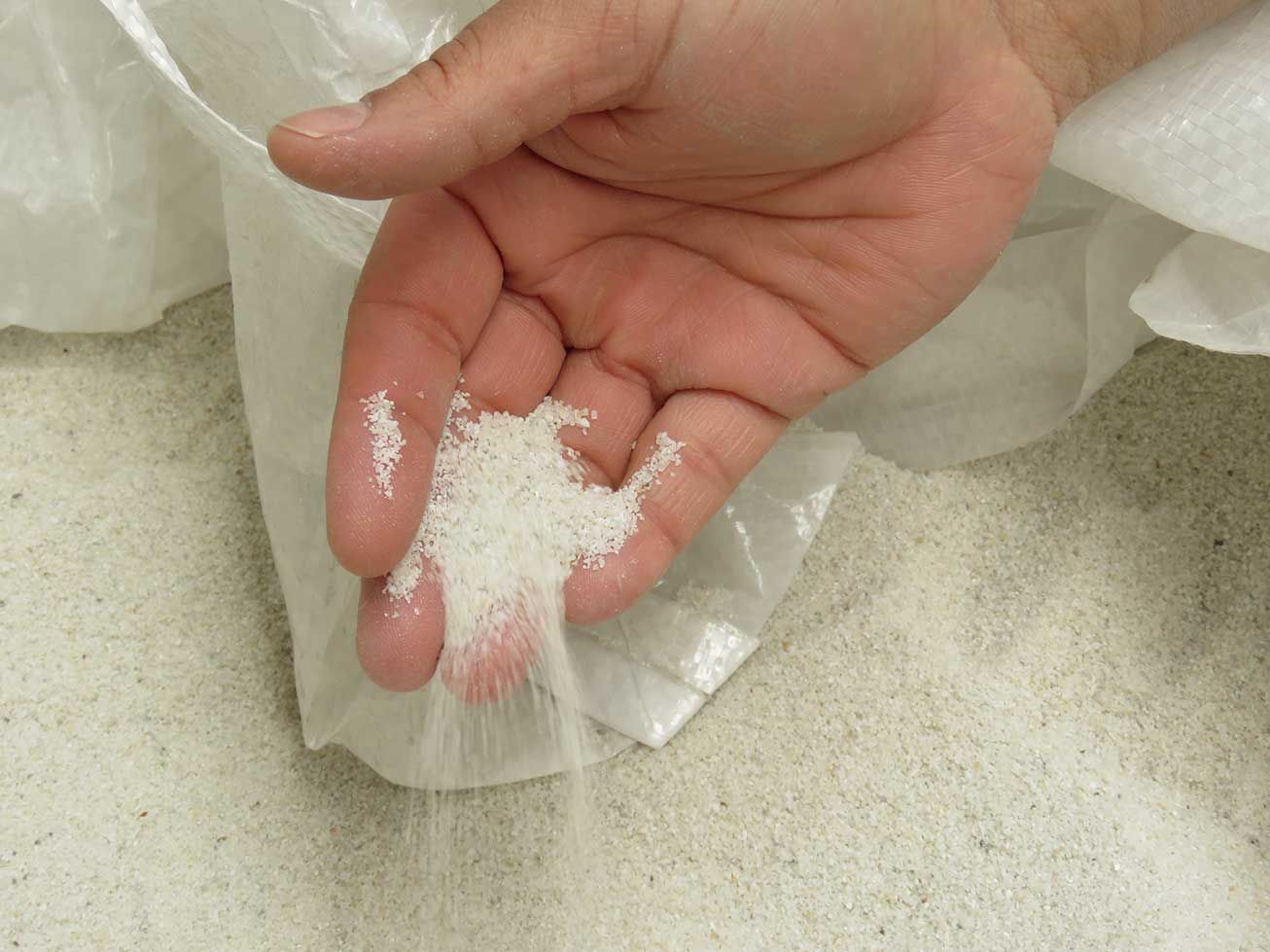 Photo by Emerson Schwartzkopf.
GREENER, CLEANER, STRONGER
That attention to detail and quality received a strong test in the mid-2010s when a firm contacted Diresco on behalf of a large worldwide retailer. The requirements included the ability to stand up to UV light in exterior applications, plus sensitivity to the retailer's pro-environment corporate culture.

The request began a two-year process of experimentation and evolution to meet the strength needed to take on exterior applications, along with the judgment of a notoriously picky end user. (And a secretive one as well, which is why it's not named here.)

Taking Diresco outdoors wasn't new – the company's office building is clad with older slabs that weren't UV-resistant but remain sound. Guaranteeing exterior performance, however, required a totally new process.

The breakthrough came with suppliers formulating a materials-binding resin that isn't based on standard epoxies or polyester structures. The resulting process – Diresco's BIO-UV – offers a sustainable take on quartz surfaces and inhibits UV degradation outdoors.

The process doesn't stop all fading of darker colors – "you have to tell the things as they are," De Brandt said – but weatherometer-based testing of the BIO-UV slabs showed blacks going to a deep grey in four years, with mid-tone hues getting a slightly lighter look and white-based colors showing close to no change in the same testing.
Diresco also chose to have testing done by worldwide quality-assurance firm Intertek using a high-standard process taking approximately eight months to simulate the years of aging. "It's important that we have independent certification, and not something done internally by a company that has no worth," De Brandt says.
De Brandt adds that the testing of BIO-UV resins also provided an unexpected bonus: The new process added overall performance over standard polyester binders.
"By using the new formulations, all properties on the slabs went up," he says. "It impacted everything – even the firefighting test. Everything is backed with testing evidence."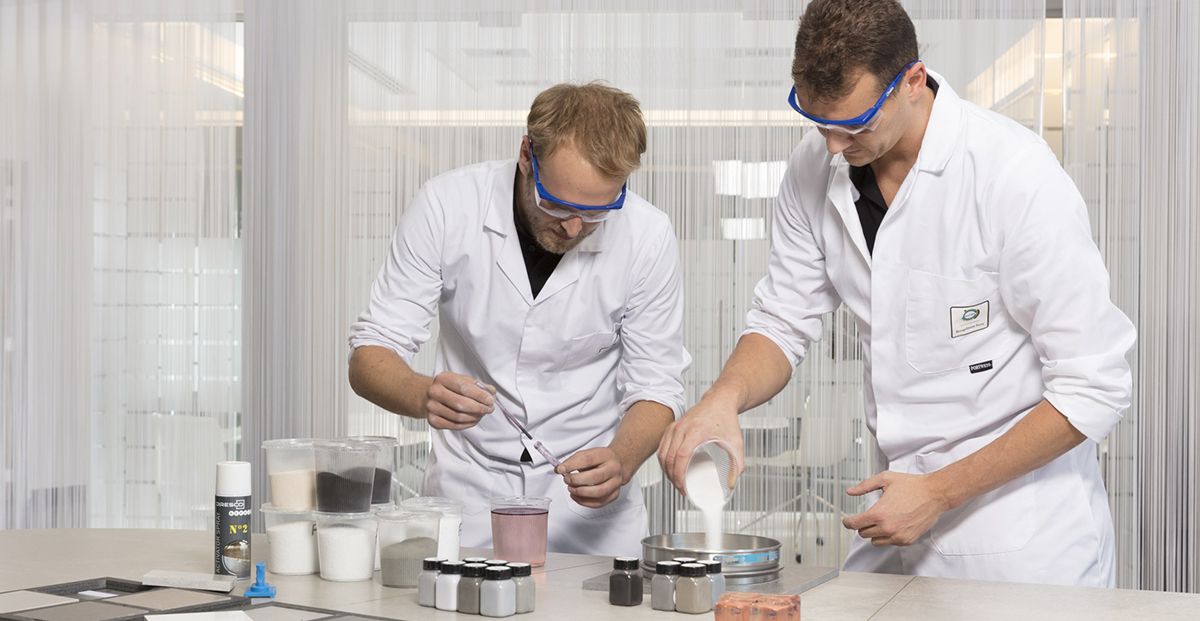 Photo by Emerson Schwartzkopf.
A focus on development and technology runs througout Diresco, along with attention to detail. That includes big advances like BIO-UV ... and job-level solutions like a repair kit customized for the company's products.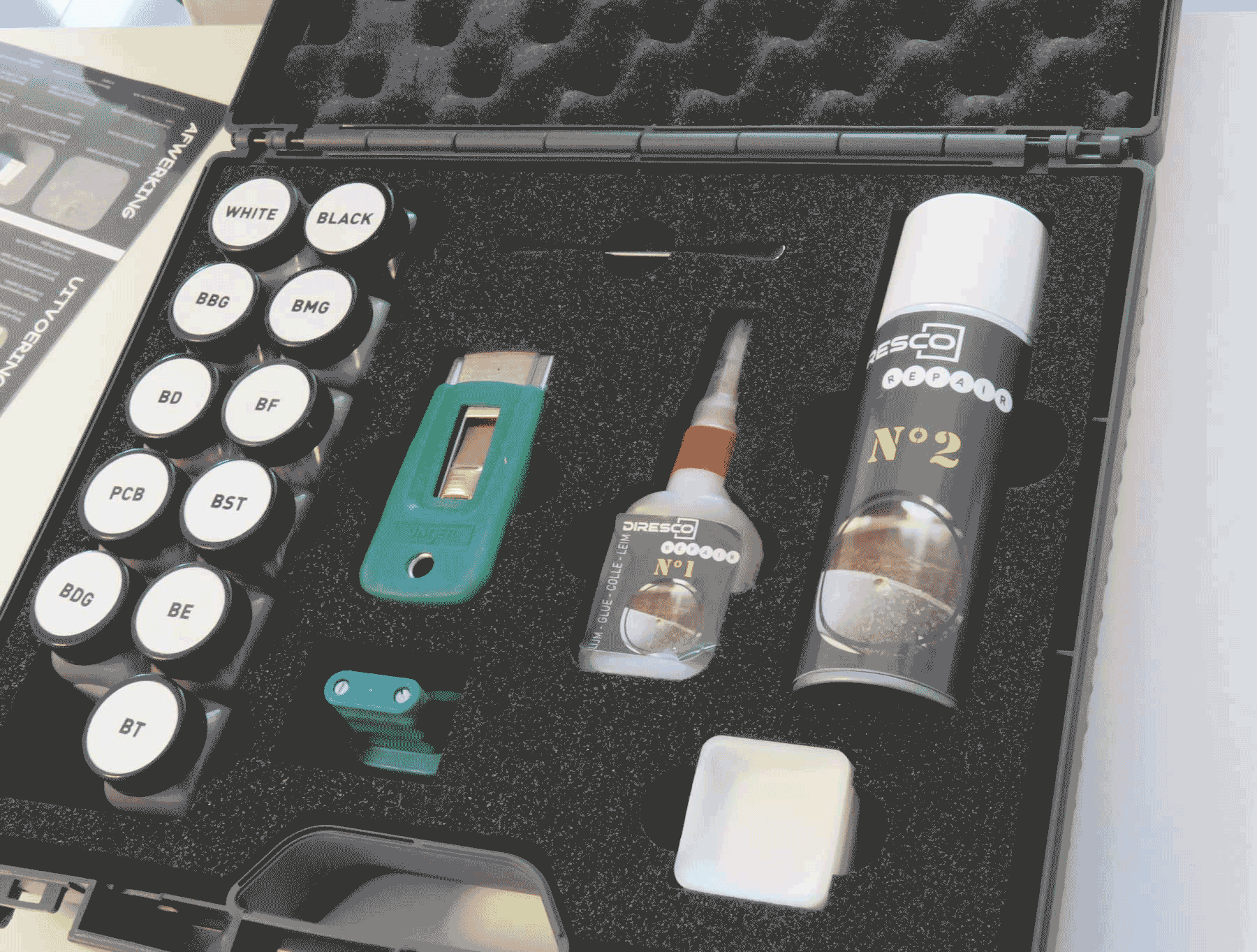 Photos by Emerson Schwartzkopf.

Product development for Diresco's BIO-UV included independent third-party testing of UV stability using "weatherometers" that duplicate long-term outdoor exposure. The chart shows the effect on ten of the company's surfaces -- the bottom row is after one simulated year, and the top is after four simulated years.