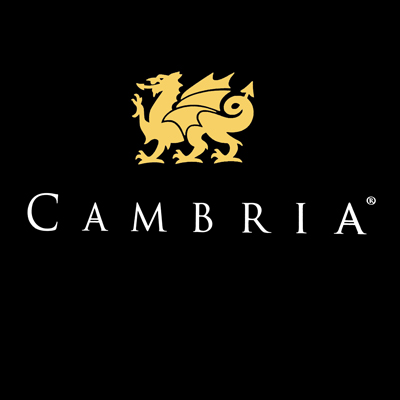 CAMBRIA®, Le Sueur, Minn., introduces 20 new designs to coincide with its 20th anniversary in 2020. They made their debut at the 2020 Kitchen & Bath Industry Show (KBIS).
The 20/20/20/20 launch is described by the company as one of the most significant design launches in its history in terms of number of designs and uses of advanced proprietary technology, and includes everything from whites to grays to blacks.
"The research and development team has grown strong, and in our 20th year, we're proud to bring to market 20 new designs that represent years of development," says Summer Kath, executive vice president of design and business development. "We're providing designs that answer the wide range of application needs beyond countertops and large surface areas now featuring stone."
Archdale™, a quiet white with thin straight and bent veins that form abstract sections;
Bradwell™, medium gray tones with delicate dark gray strands and clusters;
Bridport™, a light gray with subtle cream undertones and abundant gray threads and strands;
Brittanicca Block™, the company's Brittanicca designs laid in parallel lines with unique veining patterns and tonality set against a milky white background, using 99% pre-consumer recycled materials (handcrafted, orders may take longer to fill);
Buxton™, an industrial, grainy concrete foundation mixed with gray and cream daubs and white speckles using 59%pre-consumer recycled materials ;
Charlestown™, a charcoal-gray surface imprinted with meandering gray and white veining above faint black currents;
Clovelly™, with copper and brown veins and white bolts across a creamy surface with latticed threads and black accents; Colton™, warm and creamy with rusty brownish-gray inscriptions and small white patches; Gladstone™, a soft, misty-gray background with shadow veining over fine gray webs and lattices and gray shadows and dapples flowing underneath; Harrogate™ is a creamy base accented with black and dark greige veins, dark clusters and delicate gray filaments; Hawksmoore™, a cream palette crossed with dark taupe striations accented by rusty capillaries and delicate veins; Malvern™, a warm vanilla palette crossed with small white splashes and ghosted gray accents;
Portrush™, an elegant porcelain base crisscrossed with navy, gray and black veins accompanied by fine-spun filaments and gleaming gold flakes; Queensbury™, a white background with prominent gray veins and delicate gray tributaries set off with sparkling-white crystals; Smithfield™, soft white, with faint veins underneath; St. Giles™, a medium-gray tone accented with slate-gray and white veins and faint gray veins underneath; Sutherland™, a soft alabaster foundation crossed with dark- and light-gray veins; Whitby™ a light crème brulee background gently marbled with subtle gray shapes and lines.
All new designs are available in Cambria Matte™ and high-gloss finishes, along with 19 different edge profile treatments.
All are also available in 2cm and 3cm, except for Buxton, which is also offered in 1cm, and Brittanicca Block which is available in 1cm and 3cm. CONTACT: Cambria, 866-226-2742.