Luke Busker Masonry /
LMB Stone and Fabrication
Hudson, Wis.
---
"We figure out how to get it done."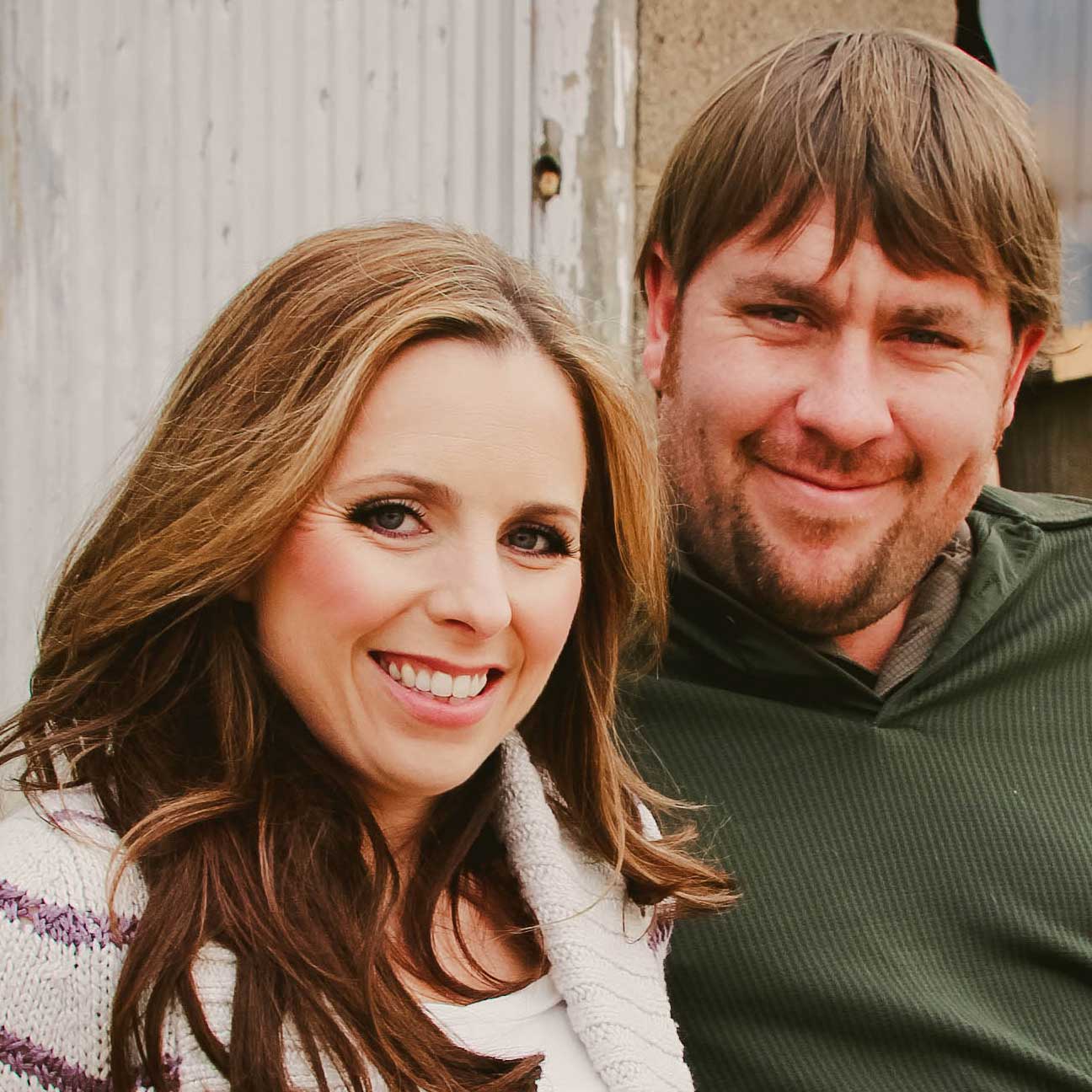 Tera and Luke Busker
By K. Schipper
HUDSON, Wis. – Today, when most people think about dimensional stone, it's a mental picture of countertops or vanities. For Luke Busker, owner of Luke Busker Masonry and LBM Stone and Fabrication, three-dimensional stone means something completely different.
A mason by trade, Busker found his business installing stone and brick. The homes, monuments, fountains, patios, outdoor kitchens and fireplaces he helped craft often required better stone than he was receiving. He began cutting with some hand tools and went on from there.
Fascinated with the idea of creating large stone pieces for architects and contractors, Busker went all-in with the idea of developing a business producing 3D stonework. He's putting the finishing touches on a new 24,000 ft² shop and, with some outsized new equipment, he's confident he can find a way to fabricate just about anything.
THE LURE OF STONE
It's probably not surprising to learn that stone is in Busker's blood. His father was a mason, and he took to the trade at an early age.
"I knew I was going to be a mason when I was about 15 years old," he says. "My dad and another man were partners, and I worked for them for a couple summers when I was in school. I intended to go into it coming out of high school, which I did."
However, working for his dad wasn't the easiest situation. Not only was he the boss' son, but he was soon out-performing people who'd been doing the work for 25-30 years.
"Within about a year-and-a-half," Busker says, "I was prodded to go out on my own, which I did."
Fortunately, Busker had a large market to take on. Although he grew up in Roberts, Wis., a community of fewer than 2,000 people, it's only a few miles east of the Twin Cities. He soon established himself, developing a niche both with builders and homeowners, many of them in the high-end suburbs west of Minneapolis.
"After we got going, we started doing projects where we were installing a lot of cut stone – that was probably 13 or 14 years ago," Busker says. "At that time, there were probably only a couple fabrication shops in the Minneapolis-St. Paul area that were working with architectural stone."
Much of the stone Busker found himself working with was limestone. Custom-cut orders would arrive at his shop incorrectly, or late deliveries played havoc with tight construction schedules.
"That was when I started wondering if we could do some of this stuff on our own," he says. "It was all hand tools. We came up with a Skil saw with a masonry blade and we started cutting. It was a lot of banding and capstones for chimneys, things like that."
He adds that it also quickly became apparent that by cutting the stone himself, he could increase his profitability and accuracy, as well as eliminate scheduling issues.
"It was a win-win across the board," Busker says.
Still, Busker continued doing hand-fabrication for several years until purchasing a Wizard Radial Arm Polisher from St. Cloud, Minn.-based Park Industries®.
"With that tool we developed all kinds of profile bits and we used it to straighten stone and finish it from a hand-cut profile," he says. "We've actually developed some creative ways to make columns with the Wizard. It's a matter of figuring out how to make your tool work in a unique situation."
It's mainly a matter of thinking outside the box, he adds.
"With everything we do, we try to come up with creative ways to use what we have to get things done," Busker says. "We also don't let our equipment limit what we can do. We'll take on things that most people shy away from, and we figure out how to get it done."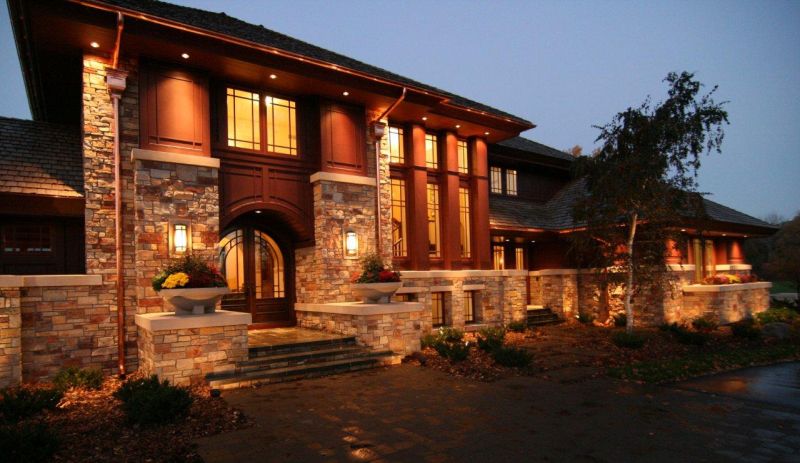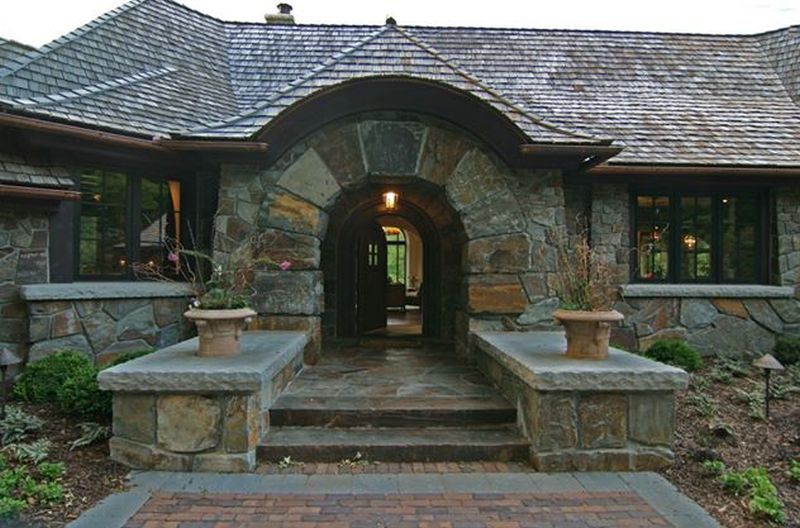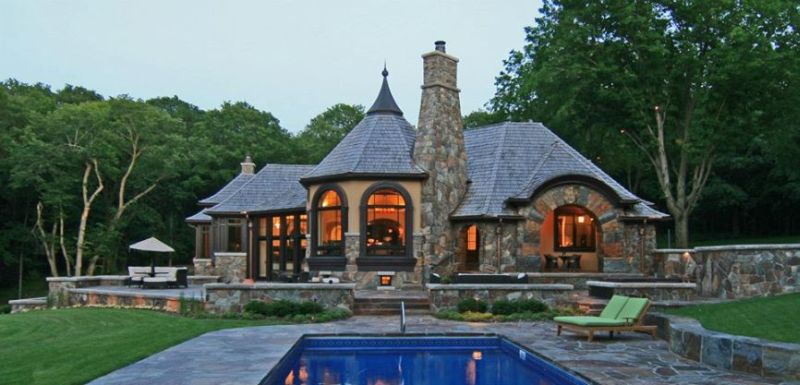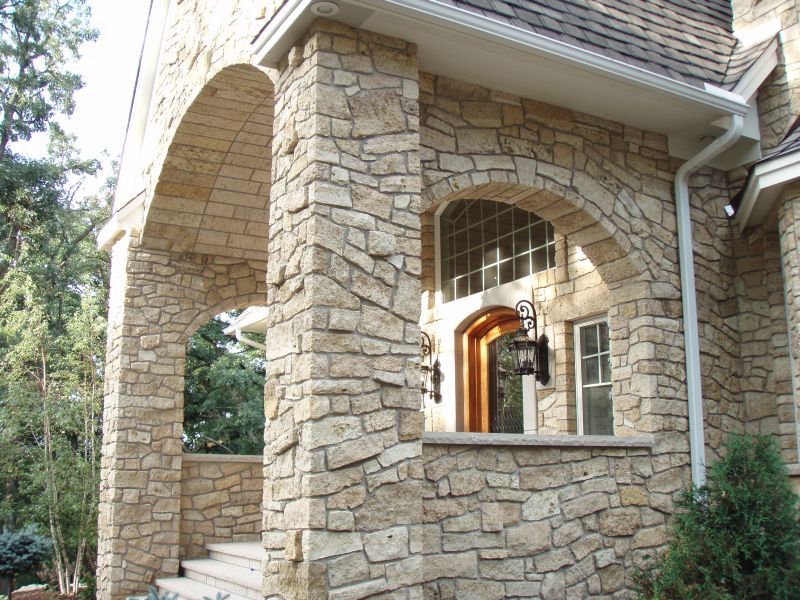 "On a scale of 1-100, our fabrication shop is going from a 5 all the way to 100 in one step."
---
Luke Busker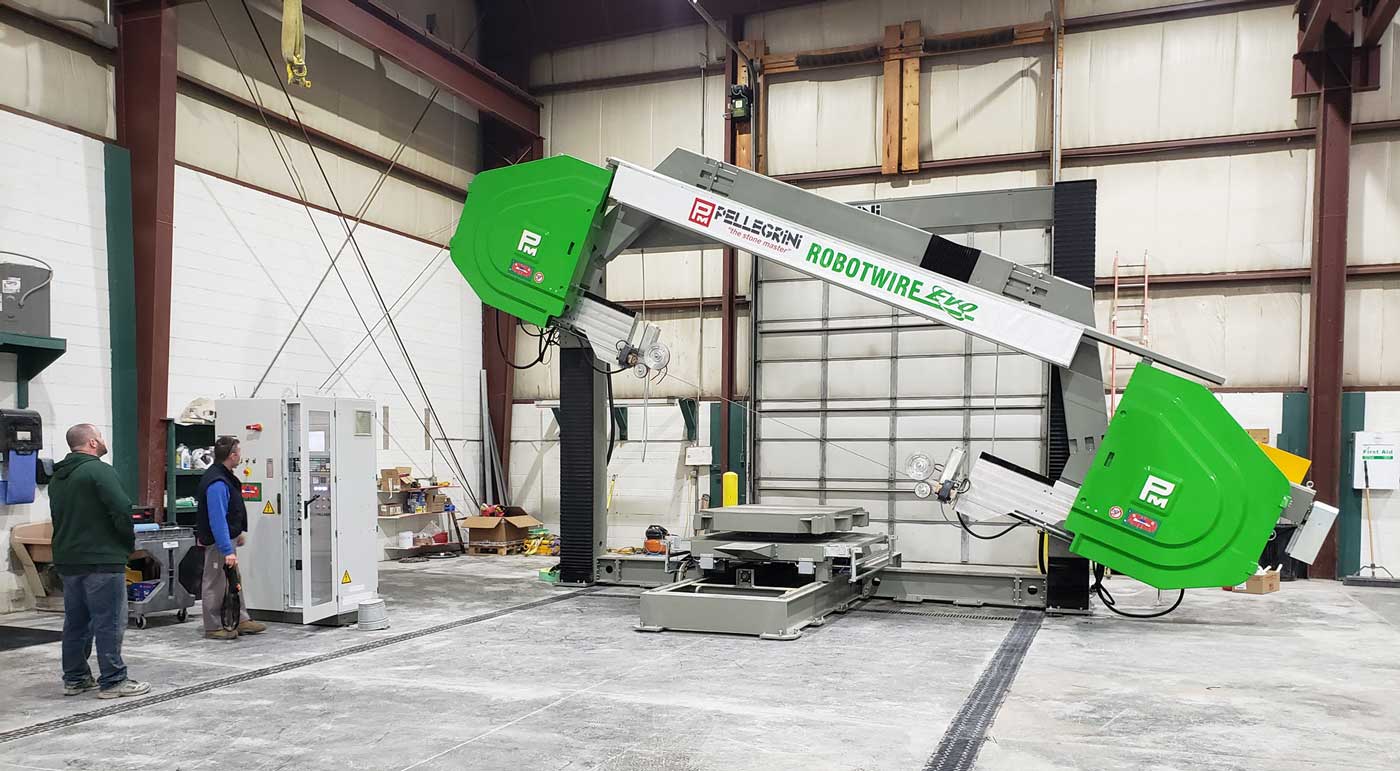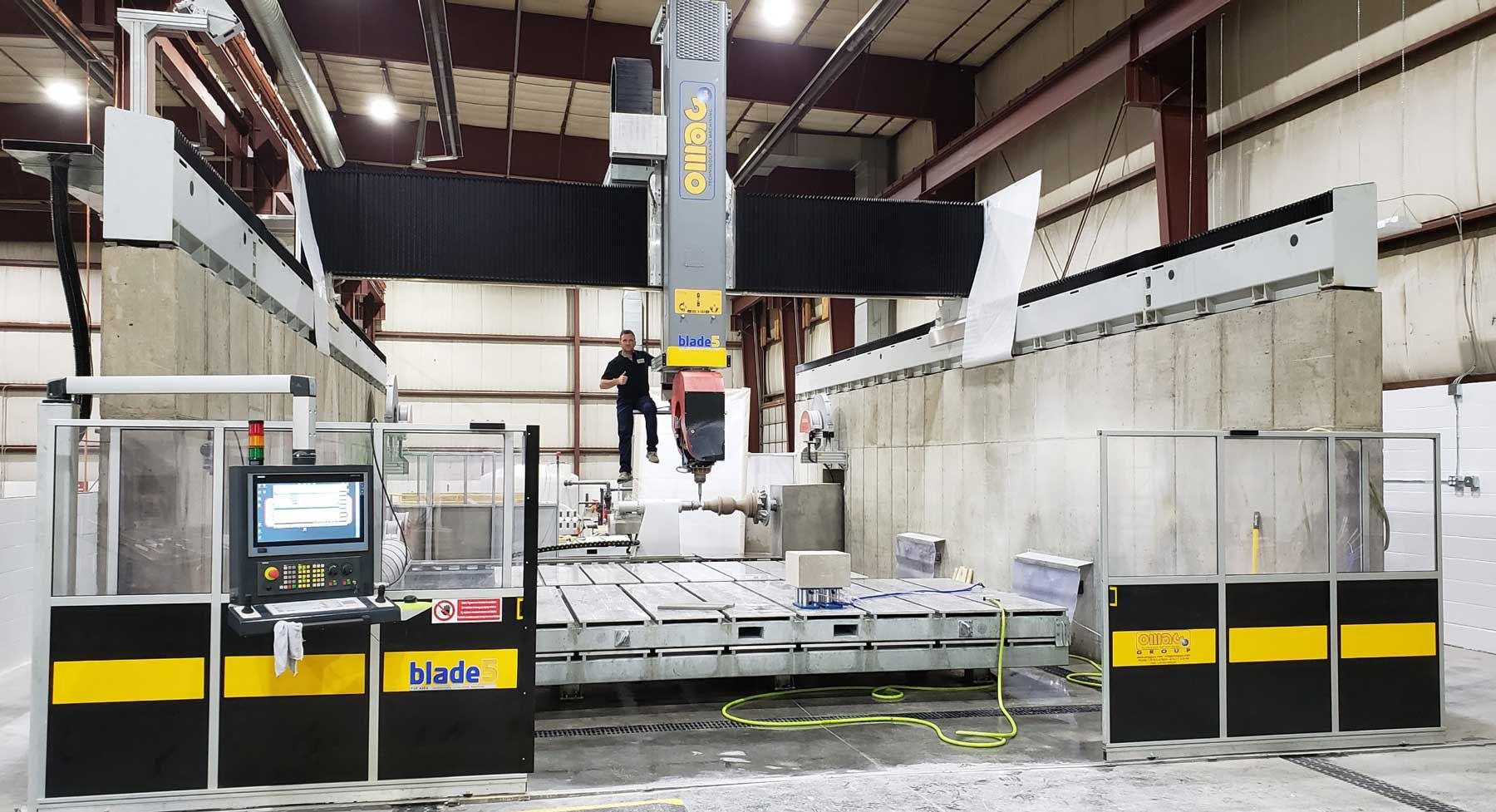 MORE OF AN IMPACT
That's still Busker's philosophy, although these days it's a matter of taking on bigger and more-complex jobs with better and more-versatile equipment.
He says that LBM Stone and Fabrication's capabilities improved dramatically when he purchased a Park Yukon® bridge saw six years ago, and it's now growing by leaps and bounds as the company moves into its new facility and begins utilizing both a Pelligrini Robotwire EVO six-axis CNC and an OMAG lathe and milling center.
"On a scale of 1-100, our fabrication shop is going from let's say a five all the way to 100, in one step," Busker says.
Not that the move has been in any way casual or spur-of-the-moment. Busker says he spent three years – including visiting some 30 stone shops in Italy – doing research and figuring out what equipment would best fit his needs.
At the same time, the building in Hudson underwent a complete renovation, including the installation of a water-filtration system.
Plans are to have all the equipment up and running by the end of May, although until that's a certainty Busker has been a bit reluctant to go out and heavily market his new capabilities.
"I'm just getting started with marketing," he says. "I've reached out to a couple architects, but nobody knows about us, really. My mentality is: if I build it, they will come. I know enough people in the industry to know there's an opportunity, especially if we have the capability, and we have the capability."
Still, he's been interviewing people for a sales position, and he expects to be hiring someone to focus on stone fabrication sales very shortly. However, the new facility won't have a showroom.
"I've always said the shop is the showroom," Busker observes. "I've spent time in Italy and visited shops there, and every time they've had things lying around that have had much more of an impact on me than having a separate space. And, we do have samples on display."
He also expects to do online marketing and, at least initially, he sees his potential clients as other shops who don't have his capabilities, as well as architects and contractors.
"There's a lot of simple fabrication work we do, but we've already migrated into a position where 15% to 20% of our fabrication work is fairly complex," Busker says. "We aren't doing statues yet, but we cut a lot of multi-radial objects, compound-radius stuff. The new equipment will allow us to do just that much more."
Ultimately, he'd like to be doing more in the art realm, including monuments for governments and veterans' organizations, as well as personal things.
"A lot of our masonry clients are also attracted to statue work, fountains with really elaborate surrounds and center pieces, fireplace mantels, things like that," he says.
"I've always said the shop is the showroom."
---
Luke Busker
FIGURING IT ALL OUT
Luke Busker Masonry employs 25 people, with another dozen working in the stone and metal fabrication operation. And, while he can sometimes be found on an excavator digging a trench for a retaining wall, these days he's spending a lot of time in the stone shop.
"I'm in the stone shop more often than not," he says. "We have a lot of things going on, as I mentioned, but I oversee it all and play an active role in managing the stone shop."
He adds that he's fortunate to have a lot of good people working with him, starting with his wife and partner, Tera. The company has a full-fledged drafting department for creating models and getting files ready for production, and a metal-fabrication shop that complements the company's other work.
As for getting good people who are also skilled, Busker says he views life as a journey where he's taken the time to learn different skills, which are then passed on to his employees.
"I've invested quite a bit of resources in educating people to get prepared to do this," he explains. "It's part of my strategy, so I've focused my investment here and been able to train people to be ready for this moment."
Having come this far, Busker admits that the next part of his strategy is to take a short breather once the new equipment is up and operating. For one thing, he wants to start getting projects to keep the machines running.
However, he's still looking ahead for his next moves, including the possibility of adding a separate machine for fabricating balusters, a slab-polishing machine to hone stone for items such as wall caps, and perhaps a bridge saw capable of handling a 40" blade.
Right now, though, his biggest challenge is expanding his network and marketing the capabilities he already has.
"My focus is on the architectural side and there are great opportunities there, such as restoration work," he says. "I have a lot of friends who are architects, and this is going to have an impact on what they're putting into their projects. They can source their needs locally, and it will allow them to be more creative.
"And, we can also facilitate the installation of a lot of it," Busker adds. "We're going to tell them that we can make it and we can help them with the install if they need it, too. It's another way to bring value."
However, he also stresses that he wants to network with other shops.
"I don't want to be viewed as competition," he says. "I really want to work with other shops that don't do what we can do or don't want to do it. I want people to lean on us to help them with their projects. We're not here to step on their toes."
And, while he works to get all this figured out, he still has the joy of turning out unique products, which he says is really his greatest pleasure.
"There are always challenges within a project, like how to do things and be the most efficient," Busker concludes. "There are also the outside factors like fitting it into a particular space or figuring out how another material that's being installed might affect it. I like to figure it all out, source new materials. and explore production options.
"Those are the things I really enjoy doing."