The Safe Shop

From The Natural Stone Institute
Stack the Slabs in Your Favor
You can always replace a broken slab.
You can never replace a life.
Accidents happen in a split second, even to the most-experienced slab handlers. Any stone storage system has the potential for disaster, including serious injury or death.
Make sure A-frames and other storage racks are properly sized for the load they are expected to hold. Stencil the rated capacity on A-Frames and other storage racks as a reminder to everyone.
Before using an A-frame or storage rack, check for the following:
Cracked welds on metal frames.
Cracked structural members.
Bent structural members.
Splits in wooden supports.
Wooden supports built with nails instead of screws.
A-frames and other storage racks should be removed from service if they do not appear to be structurally sound.

Make certain all slab and tile storage racks are designed for the weights they will be holding. Overloaded storage racks are accidents waiting to happen
Steel-rod frames are made to be some of the most-solid structures in a shop -- but it's always wise to check. Rods need to be fully inserted in the frame ...
... and it's easy to start a cascading collapse if rods aren't fully seated .(Photos courtesy OSHA)
From the OSHA Files
Employees #1 and #2 were unloading a crate of nine granite slabs from a shipping container onto a bundle rack. The total weight of the slabs was approximately 6,000 lbs.
After the crate was removed from the container, the framing was removed from the slabs. Employee #1 bent down in front of the slabs to remove the crane slings. Employee #2 turned away to walk back to the truck when the nine slabs fell forward crushing Employee #1 and striking Employee #2's right leg.
Both workers were taken by ambulance to the hospital where Employee #1 died several hours later. Employee #2 sustained a compound fracture to his right leg.
This case was selected as being representative of injuries caused by improper work practices. No special emphasis or priority is implied nor is the case necessarily a recent occurrence. The legal aspects of the incident have been resolved, and the case is now closed.
Accident Prevention Recommendations
Do not load storage racks in excess of rated capacity.
Use storage-rack systems that secure slabs from shifting, sliding and collapsing, or provide secondary bracing to secure slabs from shifting, sliding and collapsing.
Make sure slab racks are properly installed. Inspect each component to ensure that poles can be properly inserted into the holes.
Maintain the racks. Make certain that no debris or other objects interfere with the insertion of the poles used with slab racks.
Develop and implement procedures for the placement and removal of slabs from the racks and keeping employees out of danger zones (fall shadow).
All Natural Stone Institute safety resources and courses are available free of charge at www.uofstone.org and www.naturalstoneinstitute.org/safety.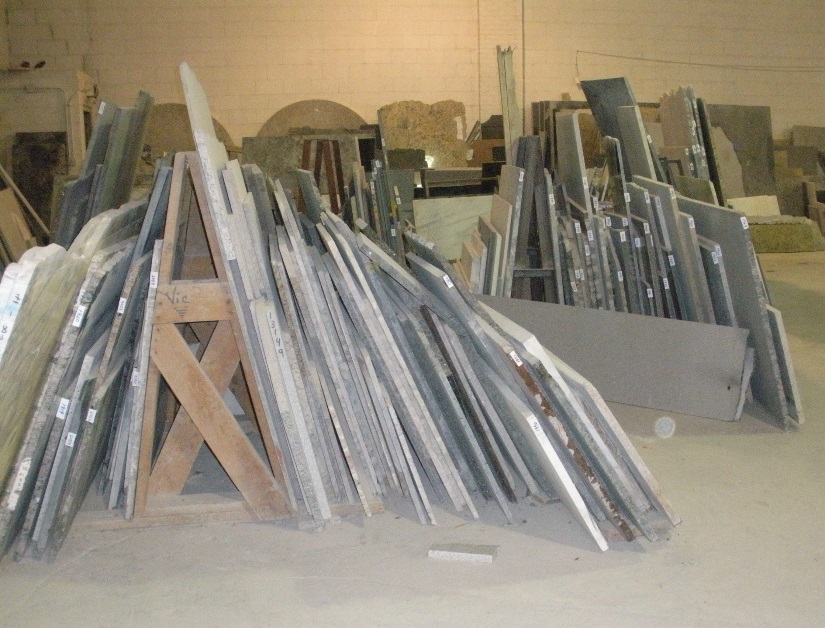 Remnants stacked against a wall, column or A-frame are the hazards that keep on growing. The more pieces added, the more the angle increases – until the pile slips and the cascade crushes whomever's in the way.
Manage your remnants. Several small secured stacks are safer than one or two oversized stacks. (Photo courtesy Natural Stone Institute)
The information herein is provided by the Natural Stone Institute as a general summary for use in job site toolbox talks and is provided to augment and not substitute for or replace required training under any applicable local, state or federal workplace statute, law or regulation. It is the user's responsibility to ensure this content is consistent with job site requirements and applicable statutes, laws or regulations prior to use and make any required additions or changes.
For More Information
The Natural Stone Institute
440-250-9222
http://www.naturalstoneinstitute.org
Oberin, Ohio