SFA: What's the Answer?
Fire-pit Cracking
dbiel
SFA Member
I have a steel-gray top on a fire pit at a restaurant. It cracked at all 4 corners shortly after the restaurant opened . There are bar brackets installed and there is not any area that has a larger overhang than 6". I originally assumed that the problem was expansion from the stainless-steel burner, so when I replaced it we allowed almost ¾" for expansion. The top was set in thin set,and again has cracked in the same area.
Does anyone have any suggestions?
Thanks in advance
Bob Faust
Fireplace and Granite distributors
Concord, N.C.
Fpdfaust@gmail.com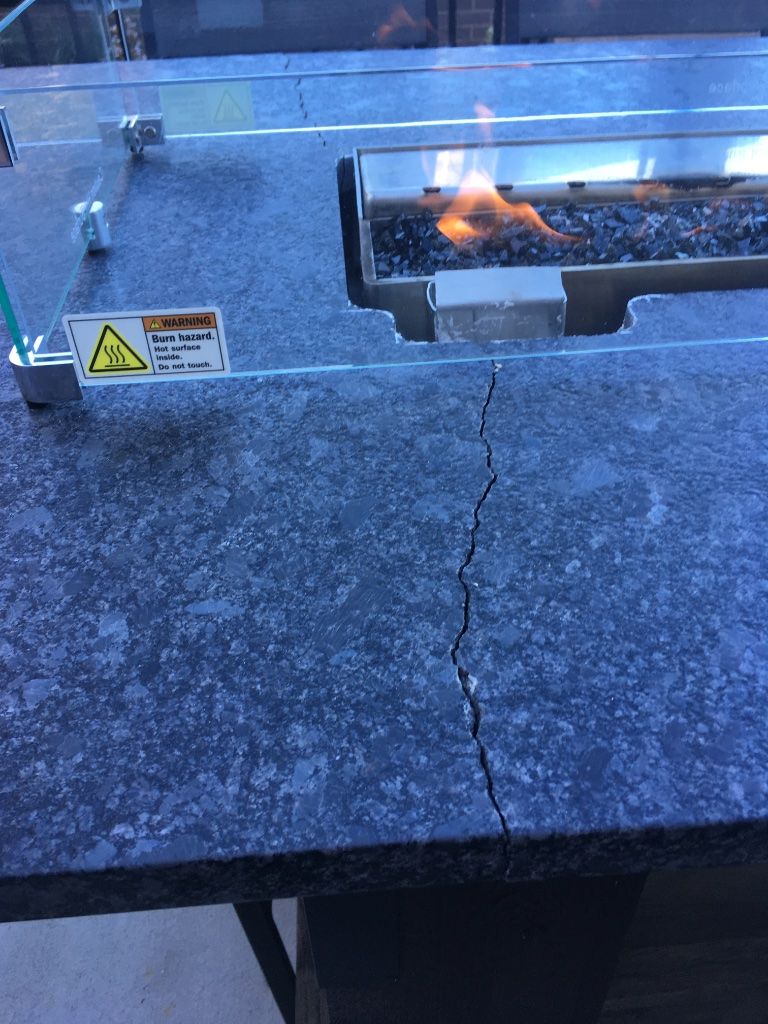 Dave.Scott
SFA Member
It is caused by the heat, and differing expansion/ contraction rates.
We ALWAYS seam fireplace surrounds, fire pits, BBQ's, steam table openings.
Have not had a failure in over 20 years.
Also, we seam and set all of these with silicone to allow for this movement.
Dave Scott
Slabworks of Montana
"What we leave behind is not what is engraved in stone monuments, but what is woven into the lives of others" - Pericles
To learn, we must teach; to receive, we must give; and to be loved we must love.
dbiel


Thanks Dave.
So you would do this in four pieces with silicone seams ? What about the thin-set? We could also set in high-temp silicone, or will thin-set allow for the thermal expansion?
Thanks again for the help.
Bob
Dave.Scott
SFA Member
Yes, at least three, center on one rail and ends of others, I prefer four at/near corners.
You can see where the stresses were.
I think that regular silicone is good to 500°F, could be wrong.
As long as nobody is walking on it, I would forgo thin set entirely for silicone.
CustomMarbleGranite
SFA Member
Seams and regular silicone as mentioned.
Lester Swick
Custom Marble & Granite
Butler, Pa. 16001
908-418-5925 cell
LSwick1968@Gmail.com
http://www.custommarblegranite.com
TEAM BUBBA BOATER
Omni Cubed Larry
SFA Sponsor-Friend
Hi Bob,
The thin-set is not letting it expand and contract separate from the base. That will put some stresses in the stone and it will crack near any stress riser (sharp corners, rough spots, etc). The burner won't expand 3/4", so you wouldn't have to leave that big of a gap, but it will look fine if you have a flange covering it. If you don't have a flange covering it, consider cutting it a tad closer and polishing it.
That cut looks pretty rough, and that could cause higher stress points (smooth radius inside corners are best). Using silicone will help it move freely, and I agree that seams near the corners will help a lot too. I know you said you only have about a 6" overhang, but have you ever observed customers sitting on it, or putting their feet up on it like a foot stool? If so, maybe do some steel fabrication underneath to have the supports go further out.
Larry Livingston
Omni Cubed Inc.
http://www.omnicubed.com
877.311.1976 office
530.748.3111 direct
dbiel
SFA Member
Thanks for all the feedback.
BellaTerra
SFA Member
Any chance this is from the glass expanding from the heat which is bolted to the stone?
In any case seams will prevent it from cracking.
Colby Douglas
Bella Terra Stone
North Bay, Ont.
705-358-3039
www.BellaTerraStone.com
Omni Cubed Larry
SFA Member
BellaTerra wrote:
Any chance this is from the glass expanding from the heat which is bolted to the stone?
In any case seams will prevent it from cracking.
Good observation. The coefficient of linear thermal expansion I believe is approximately the same for granite and glass, BUT the glass could be getting hotter than the granite, or vice versa, causing enough of a difference over and over again. It could help if the glass brackets had some "slop" in the holes; that could allow for some movement.
Dan R.
SFA Member
The linear expansion may be similar, but the specific heat (how long it stays hot) has to be much higher on the granite than the glass.
Dan R.
Morris Granite
Morris, Ill.
815.228.7190
morrisgranite@sbcglobal.net
http://www.morrisgranite.com
BellaTerra
SFA Member
With that being said the glass must be heating up way quicker I would think and, thus expanding much more quickly, putting tension in the stone.
Mark Meriaux


The issue is not likely due to interaction of the glass and stone, but mostly with the thermal gradient across the piece of stone. If the entire piece were heated and cooled at the same rate (gradually), the stone would be able to withstand extremely high temperatures. The failure issue here (and with most heat-related failures) is the thermal gradient across the stone.

Part of the stone is being heated (the inner cutout near the burner), while other areas of the stone remain cool (the outer perimeter). The glass in this installation may be contributing by insulating the outer perimeter of the stone even more. The difference in temperature causes the stress in the stone: part of it wants to expand while other areas want to stay put until....
Ultimately, failures occur at the weakest points (the stress risers at corners, natural fissures, etc.)

Mark Meriaux
Accreditation & Technical Manager
Natural Stone Institute
mark@naturalstoneinstitute.org
direct 440-250-9222 x217 • mobile 770-490-0419